Best European Poker Sites
written by: John Comments: View Comments

Online Poker » Best Poker Sites » Best European Poker Sites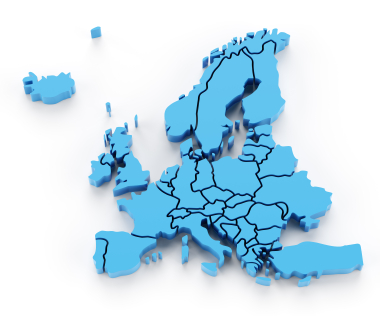 One of the largest online poker markets in the world exist in Europe - often culminating with major European poker tournaments such as the World Series of Poker Europe. When considering the best European poker sites, such poker rooms are those that feature the largest amount of site traffic from Europe and use bonuses, currencies, languages and promotions that cater directly to Europeans - not just poker sites that are owned and operated within Europe. The largest center of online poker is the Isle of Man, off the coast of Great Britain where several major gambling sites have their headquarters. The best European poker sites offer extensive customer service catering specifically to players from countries located in Europe.
Best European Poker Site - Party Poker

Party Poker caters primarily to players from Europe with more than 13 languages supported by their software and customer support. Players from different countries can also use special customer support lines catering specifically to their country or region. Party Poker accepts a variety of currencies include the European standards - the Euro and British Pound and offers a range of WSOPE qualifier events with prize packages for the major tournament.
Best European Poker Site - PokerStars

PokerStars features one of the largest European traffic base on the Internet and offers customer support, software and their web site in more than 19 languages including French, German, Swedish, Spanish and Finnish. PokerStars features a full schedule of WSOPE qualifier tournaments for £10.00 buy ins. If you plan to use a currency other than the United States Dollar, however, you will need to exchange it during your deposit.
Best European Poker Site - Full Tilt Poker

When you download the software from Full Tilt Poker, you can choose your preferred language that will be set as the default every time that you access it. European players can choose from languages such as German, French, Italian, Swedish and English. Full Tilt Poker also accepts the favorite European payment options such as major credit card, Moneybookers and Neteller.
Legality of Online Poker in Europe
In many of the countries in Europe, online poker play is completely legal. In Italy, previous bans on online poker play were eventually lifted to allow residents of the country to play poker for real money online. Even countries where online poker play for real money is illegal, such as Germany, players have no issues continuing to play poker online as few regulations actually deal with the poker players themselves but, instead, target the owners of the best European poker sites. In countries such as England, the government even allows many residents to play online poker without being taxed on their winnings. Due to the popularity of online poker in Europe, the best European poker sites can be selected from many of the top poker sites around the world.
The main governing entity that monitors and audits online poker room play throughout Europe is the European Commission. This commission not only maintains fair and accurate online poker play, ensuring that all online poker rooms serving European poker players are truly random - but also taxes poker players for participating in real money poker play with an international poker room. However, the best European poker sites are exempt from European Commission taxes because of their respective license and location. Although the European Commission is only one of the governing bodies that passes laws about real money online poker play, the effective laws are usually passed by each individual country. The best European poker sites will give you all the information that you need to play poker in your country legally.
Best European Poker Sites - Language and Currency
One of the most important considerations when choosing the best European poker sites is making sure that both the web site and customer service is available in your preferred language. For most European languages such as French, German, English and Italian, this is normally not an issue where software is concerned. However, the best European poker sites will also provide separate customer service contact information for different regions of Europe in order to provide toll free telephone customer service and fast and accurate email responses to support questions.
There are two major currencies used by Europeans at the best European poker sites - The British Pound and the Euro. Most online poker sites will accept both of these currencies for both deposits and withdrawals but the best European poker sites actually provide game rooms or tables where players that prefer to use their British Pound or Euro can make wagers using it rather than being forced to exchange it to another currency.
Best European Poker Sites - Deposit Options
Unlike in many other areas of the world, credit card transactions are not known for being rejected at the best European poker sites. In fact, credit cards are often the fastest and cheapest method for European poker players to make a deposit online. The best European poker sites process Visa and Mastercard transactions instantly and without any fees. However, American Express credit card depositors have less availability when online poker sites are concerned. Another popular European deposit option is the eCheck, or an electronic check written from your bank to the online poker room. While the best European poker sites do not charge a fee for accepting an eCheck as a real money deposit, your bank may charge you a fee when it is sent.
One of the most popular deposit alternatives at the best European poker sites is the electronic wallet. In some areas of Europe, Paypal is available as a viable deposit option. However, the two most popular electronic wallets for European poker players are Neteller and Moneybookers. Other popular electronic wallets include Click2Pay and eWalletXpress. In the event that your bank does not allow financial transactions to the best European poker sites, you can funnel the money through an electronic wallet before depositing at the European poker room - a fast and legal option.