written by: Steve under News Comments: Comments Off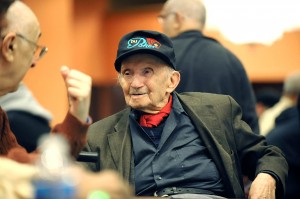 The PressofAtlanticCity.com ran an interesting story this past weekend about a 102 year-old poker player who frequents the Trump Taj Mahal in Atlantic City. The article is one of purpose, and explains one man's way of staying active well into his twilight years.
Andrew "Andy" Amatrudo is a retired hairdresser from Philadelphia who hits the small-stakes Stud tables at the Taj Mahal virtually every day, making the short trip from his home next door to the Taj Mahal on his motorized scooter. Judging from the few quotes that appear in the article given by his young 'whippersnapper' opponents –themselves into their 70's—Amatrudo is a tight aggressive player, who never loses his cool at the poker tables.
When asked why he plays poker almost every day, Amatrudo gave the curt reply, "I'm not going to sit home. If I sit home, I'll go berserk… I love to play poker. That's all I live for anymore." But perhaps my favorite quote of the article is when Armutrudo discusses the way he dresses to play cards, "I always come dressed in a jacket. See those shoes over there? I would never wear those," the person in question was wearing sneakers.
You can read the entire article on Andrew Amatrudo at the following link: 102-year-old Atlantic City man's second home is a poker table. It's a great read, and shows you some of the not so great things that come from living to 102 –Amatrudo lost his wife in 1998 at the age of 86, a number many of us would hope to reach someday.