written by: John under Poker Pros Comments: Comments Off
A remarkable phenomenon that lies beneath the surface of the booming poker industry is the fact that a percentage of the professional poker community comes from another card game, Magic: The Gathering, also referred to as M:TG. Interestingly enough, one of the most unknown sports, or card games, provides poker with some of its most successful young players. While the age demographic, and gender for that matter, of professional poker has changed over the last decade or so, a great deal of the young men who take up poker as a career have spent at least half of their life playing a game called Magic: The Gathering.
The reasons that M:TG players are so successful at poker lie within the parallels of the way the two games are played. First of all, Magic players in general are exceptionally good at mentally calculating numbers, a skill that would prove to be very useful in cards, specifically poker.
Secondly, Magic: The Gathering players are required to not only be number crunchers, but also have a grasp of mental composure and be able to read their opponents in a non-verbal way. Also a plus for poker players, who work just as hard on their own poker face as they do deciphering their opponents.
Another of the biggest similarities between the two games is the capability to handle stress and play good and long under intense amounts of pressure.
Finally, poker and Magic: The Gathering are both considered games in which luck and skill are both factors in the outcome of the game.
Magic: The Gathering is also like poker in that both games are played with cards, though poker cards are numbered and constant, while M:TG cards are likened to characters. The difference here is that each year, Hasbro, the manufacturer of M:TG, releases new cards; thus, the game is ever changing. Poker, on the other hand, of course, uses the same 52-card deck. But on the surface, both games are multi-layered with tactics and strategies that a certain sector of the world's population have mastered beyond the limits that the remainder of the world's population are capable of.
With all of that being said, here are the top 10 professional poker players who have made their way to a career in poker via a game they played during their youth on a professional level. These guys are of some other human intellect, first mastering M:TG, and then making a superstar salary by taking their experience to the poker table and mastering that game as well.
The significant fact is that they all started playing M:TG at such a young age that they ended up light years ahead of the competition because they've been training in high-level thinking for years. Once they reached the professional level of poker, they had been training and honing their thought processing skills for almost fro years.
#1 John "Brock Parker"

John "Brock" Parker, also known online as "t soprano," is probably one of the oldest Magic players and is credited for bringing poker into the realm of Magic: The Gathering. Parker, from Silver Springs, Maryland, began playing poker around 1999, before poker ever knew what it was headed for. After winning the Magic Pro Tour, which is the equivalent of winning the WSOP, Broch began successfully mastering poker, and his M:TG friends began asking questions. He pretty much taught them that while they could make $20K in the pro M:TG tour, they could make ten times that or more playing professional poker. Most of the names in this list were once taught by Parker to play poker and to use their skills at M:TG to rake in  big bucks at casinos and online poker rooms.
Parker eventually went on to win two bracelets in the 2009 WSOP and more than $700K in this year's series.
#2 David Williams

The number 2 spot goes to David Williams because he is one of the biggest poker stars that came from Magic: The Gathering. Like many M:TG players, he went to college (Academy of Math and Science in Texas), but soon established himself as one of the top Magic players in the entire world, earning more than $30,000 playing the game before he ever played Texas Hold 'em. His break into to professional poker came in 2004 when he came in 2nd place in the WSOP Main Event, losing to Greg Raymer.
#3 Justin Bonomo

Justin Bonomo, who was born in 1985, had been playing M:TG throughout his teen years when he happened to see a WPT event on ESPN. He then went straight to a book store, read about poker on the flight home, joined an online poker forum, and before he was of legal age, he had joined an online poker room.
Using his M:TG experience, he soon made a name for himself, known online as "ZeeJustin," and the rest is history. He quickly proved himself in many live events including placing 30th in the PokerStars Caribbean Adventure in 2005 and becoming the youngest player to make the final table at the EPT at only 19 years old.
Bonomo did, though, scar his reputation when he was eventually caught using multiple accounts online, but was exonerated once he came of age and gained some maturity in both his attitude and his game, apologizing and admitting it was mere stupidity of youth that made him do it. In the same year he was caught cheating, he made the bubble of the final table of the WPT Doyle Brunson North American Poker Classic and then landed 11th place in the Caribbean Adventure one month later. He continued to prove that he had grown up, gaining back the respect of his peers and colleagues and signing on with Bodog Poker's team of pros. This year at the 2009 WSOP, he  won his first bracelet and is well on his way to a long and successful career in poker.
#4 Isaac Haxton

While there are tons of pics of Isaach Haxton online, there is little information about him available. Not much is known about this long dark haired guy who wears sunglasses without fail and pretty much looks the same in every single pic ever taken, which may mean he used his poker face so much that his face actually stuck like that. Beside the fact that we do know he loves the camera, he initially started out at Brown University for a degree in computer science, and while he quit to play the game of poker, which he learned in high school, he does plan to return to school. Otherwise known as "The Lizard King," Haxton has earned more than $2.6 million in registered tournament earnings thus far.
#5 Noah Boeken

Noah Boeken, born in 1981 in Amsterdam, is a Dutch player that also made his way to poker from Magic: The Gathering. He placed 15th place in the 1997 Pro Magic Tour Chicago and then 32nd place in the Pro Tour Mainz. He then went on to the 2000 European Championship and won the entire event for a $11,500 paycheck. It was then that he switched his game to poker. After a slew on tournaments cashes and winnings, his best defeat was at the 2006 British Open in which he beat Gus Hansen, an event that put him on the map. The rest is history.
#6 Alex Borteh

Alex Borteh, like many of the players listed here, began playing M:TG as a teen and his success lead him to the Magic World Championships, where he came in second place, winning him $23,000, which to anyone in their teens would seem like a lot of money. However, following in the footsteps of his Magic: The Gathering friends, who were all Magic pros but were winning tons of cash playing poker online, he returned to Ohio State University where he studied philosophy and started playing poker, reading about poker, practicing poker, and before long, he too was making money playing poker. The unique thing about Borteh, though, is that he did finish his degree before going pro, but did eventually make his way to the professional poker circuit. He went on to win a bracelet in the 2007 WSOP Limit Hold 'em event, his specialty, after placing third in the event the two years prior.
#7 Adam Levy

Adam Levy is an online phenomenon, who has won just about every big-money online tournament there is and goes by "Roothlus" online. He's from Orlando, Florida and is 27 years old. Last year he became a member of Ultimate Bet's pro team and is now one of the most successful live tournament players in the world.
#8 Eric Froehlich

Eric Froehlich, known as Efro, was born in 1984, and he did drop out of college to pursue a career in poker, which was the right decision to make, considering he's won two WSOP bracelets since. In 2006, at the age of 21, he was the youngest person to win a WSOP bracelet, at the time. He was an avid sports player in high school, but when he got injured, his competitive spirit swayed him to play Magic: The Gathering. He's modest and doesn't let the fame and money go to his head; in fact, he pretty much uses his money to support his family, which includes paying off mortgages and sending his younger brother to school.
#9 Eric Kesselman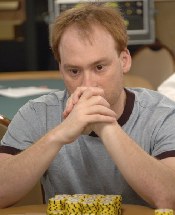 Eric Kesselman won his first WSOP bracelet in 2006, but was a baller way before that. In 2004, he finished in the money at the WPT Grand Prix de Paris. He made the switch from M:TG to poker around 2002. He's married and has two cats. This public defender, who lives out of New York, New York, isn't just a poker player, but does have a real job, too!
#10 Scott Seiver

Scott Seiver has one WSOP gold bracelet that he won in the 2008 WSOP, but there's not much else known about this guy, but he has had about 10 live cashes reported and he tends to resemble Jon Heder (Napoleon Dynamite). He's also known as "mastrblastr," a name some may have thought twice about, considering what it looks like at first glance. He also goes by "Gunning4you."
#11 Jeff Garza

Jeff Garza has quite an ego about his poker abilities and likes to wear Prada shoes. That's about the only thing worth repeating, other than he has no WSOP cashes and he's bald… that's why he's last on the list. Oh yeah, and his nickname is "Action Jeff."
The common thread between all of these players is a little game called Magic: The Gathering that brought boy tweens and teens together from all over the world to compete in Magic Pro Tour tournaments that paid out thousands of dollars. Who would've known that a 90s phenomenon would lead these guys to a millennium phenomenon. The most interesting thing, though, is that the majority of the names in this list still play M:TG for fun; they only play poker for money.