written by: Steve under News Comments: Comments Off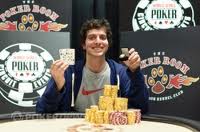 Florida's poker laws allow for anyone over the age 18 to enter a casino, so it's no surprise that since Florida expanded their gaming last year a number of records have fallen at Florida poker rooms, with the latest one being John Riordan's World Series of Poker Circuit Series win at the tender age of 19 –making him the youngest WSOP Circuit winner ever!
The event took place at the Palm Beach Kennel Club –a greyhound racetrack with a sizable poker room—and the $1,500 Championship event attracted 712 participants, swelling the prize-pool to over $1 million. Among those in attendance were 2004 WSOP Champion –and now poker free agent—Greg Raymer, as well as 2007 WSOP Champion Jerry Yang. While neither of the two former WSOP Champions found their way into the money, the 19 year-old Riordan definitely did, pocketing an impressive $210k for the win.

Here is a look at how the final table fared at the WSOP Circuit Series Palm Beach:
1.    John Riordan – $210,180
2.    Mike Morton – $130,057
3.    Thomas Aprea – $95,392
4.    Austin Buchanan – $70,939
5.    Ryan Lenaghan – $53,468
6.    Jon Brody – $40,837
7.    David MacDonald – $31,599
8.    Jesse Okonczak – $24,771
9.    Jerry Timmons – $19,665
Riordan's performance earned him a spot in the National tournament this May, but his age will preclude him from participating as the tournament will be held in Las Vegas, Nevada where the legal gambling age is set at 21 –no word yet on how the WSOP Circuit will handle this situation.