written by: James under News Comments: Comments Off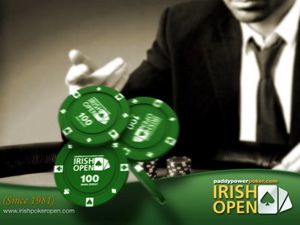 Yesterday, the dates for the 2011 Irish Open were finally set at April 22nd through 25th at the Burlington Hotel, Dublin. Next year, the buy in for the popular European tournament will be 3,200 + 300 Euros and will start all players with 20,000 chips (rather than the 10,000 chips from this year). A popular returning feature of the tournament will be the Sole Survivor promotion sponsored by Paddy Power. In this promotion, the last player in the tournament that qualified from Paddy Power will receive a 100,000 Euro cash prize. This prize will be awarded in addition to any cash that the player may take home from the tournament.
In 2010, the tournament broke it's own attendance record with 708 professional poker players turning out to play. Among these players were Brain Townsend, Dan Harrington, Neil Channing and Kara Scott. Last year, the winner of the tournament was James Mitchell from the United Kingdom. According to the communications manager for Paddy Power, the web site is very happy to meet last year's players' demands that the chip stack size be increased for all players entering the tournament. Based on this increase, Paddy Power is expecting to once again break the record set in 2010.
The Irish Open is the oldest NL Texas Holdem tournament in Europe. In fact, it is second only to the World Series of Poker as the oldest Holdem tournament worldwide. First played in 1980, the Irish Open was organized by the famous bookmaker from Ireland, Terry Rogers – who died in 1999. Paddy Power took over the tournament in 2005 and helped the tournament grow into the large competition that it has become today. Before 2006, the Irish Open was hosted by the Merrion Casino. However, the Irish Open became such a popular tournament that it had to be moved to a larger venue – the Jury's Ballsbridge Hotel. In 2007, the tournament location was changed once again to where it is still played today – the Burlington Hotel.
The first winner of the Irish Open was Colette Doherty, who won the tournament both in 1980 and in 1991. She also had the honor of being the first woman to compete in the WSOP, as well as the first player from Europe.