written by: Steve under News Comments: Comments Off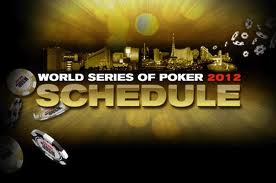 Beginning on Tuesday the official WSOP Twitter feed started releasing details about the upcoming 2012 WSOP schedule; first giving the official dates and then delving into a few changes players will notice at this year's tournament series, including the paring down of the WSOP Main Event by three days (including the elimination of the off-day in between the Day 1 flights and Day 2) which the WSOP claims will not affect the structure in any way.
Here is a look at some of the Tweets from the WSOP Twitter account on Tuesday/Wednesday:
"The 43rd Annual WSOP will take place from May 27 to July 16, 2012 at @RioVegas. Full schedule comes at 1 PM ET Wednesday."
"For the 2012 WSOP, an expected 470 poker tables will be utilized…nearly 100 more than last year!"
"The WSOP Main Event this year will be 3 days shorter without compromising structure at all. #winallaround"
"New start time at WSOP in 2012…10 AM. Okay, just kidding, EXCEPT for Seniors Event which will begin at 10 AM this year"
Perhaps the biggest change to the 2012 World Series of poker, or what will surely be the most talked about, is the WSOP's decision to do away with the November Nine; which became highly expendable now that ESPN and the WSOP has moved to a "live feed" format for the final table.
"A few hints on WSOP schedule coming tomorrow…you won't find the November Nine returning."
The WSOP plans to release the full schedule for the 2012 WSOP at 1 PM on Wednesday; we'll keep you posted on any other exciting new changes as well as what tournaments have been added or subtracted.