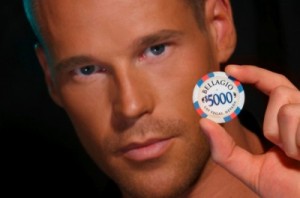 Patrik Antonius seems to have a name synonymous with high stakes online poker. First fearlessly taking on the legend of Isildur1 – presumably enough to make the now invisible poker player likely take a break from Full Tilt – Antonius is now biting into another rival, IHateHuice; and biting hard. Antonius has had a very good year thus far, enough to put him in 8th place for most winnings in 2010. All told, Antonius has earned $1.7 million during the year, with the $504k win instantly popping him up into the top 10 winning players this year. IHateJuice is certainly feeling the most pain from Antonius' success. In 2010 alone, the Finn has blasted the online poker player for $800,000, or nearly half of Antonius' earnings this year.
One nasty hand came at the Fixed Limit Holdem tables at Full Tilt Poker. Antonius looked down at a pretty weak Queen/Three off suit on the big blind. But, he would soon use his chip edge to his full advantage, even out of position. IHateJuice made it $4,000 all day and Antonius quickly called (uncharacteristic for the poker player that normally takes at least half the clock to make a decision). The flop came with a possible straight in Three/Seven/Five (two diamonds) but that didn't stop Antonius from making a $2,000 bet. IHateJuice made a raise to $4,000 and Antonius called. A Two of Diamonds came on the Turn, prompting a Check from Antonius but a $4,000 bet from Juice, which Antonius called.
The river came with a Queen of Hearts, that gave Antonius two pair but still left a possible straight and flush from the board. Antonius checked to a $4,000 bet from Juice, which he then rose to $8,000. Juice called only to muck his hand and deliver a $40,000 pot to Antonius.
It wasn't all wins for Antonius, however. One hand came with Juice sitting on pocket pairs (Jacks). In this hand, pre flop action brought the pot up to $16,000. However, IHateJuice saw a nasty flop come with three diamonds – Ace, Queen and Eight. This gave Antonius a possible Flush or higher pair. IHateJuice checked, Antonius bet $2,000 and Juice called. The turn brought a Seven of Hearts that prompted another check, bet, call sequence for $4,000. Finally, the River brought a third Jack into play – smashing any possible higher pair. Juice once again checked but met Antonius' $4,000 bet with a raise to $8,000. Antonius called only to muck a $44,000 pot to IHateJuice.
During all play on Sunday night, IHateJuice was the biggest loser, dropping a total of $515,000. However, there were a lot of weekend losers to join him. The familiar luckexpress10 went down about $382,000 and bemyguestbud lost about $109,000.