written by: John under News Comments: Comments Off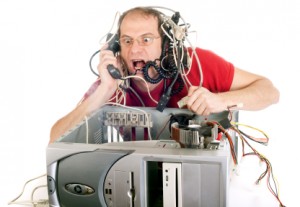 On September 12th of 2007: Marco Johnson, aka "Crazy Marco," a well-known online poker tournament player entered a $1,000 tourney at Absolute Poker. He came in second taking a prize of $20,000, while a player named "Potripper" took first place winning $30,000.
Marco's friends had been following the game and felt he had been cheated. He then emailed Absolute Poker online support and asked for a hand history. Johnson received an Excel file that was huge. It had the hand histories of everyone who participated in the tournament, along with their email addresses and IP addresses.
Usually if you request a hand history, you will only just the cards you had; what he received was the master copy of all the players info (uhh… breach of trust?). Marco and his roommate, Jared Hamby, aka "the wacokidd," studied the file intently. The file that Absolute Poker had sent them showed all the hole cards in the hand history. They saw how Potripper played and were able to see what hands were at the table when Potripper was and was not playing hands. It was apparent to them that Potripper knew his opponents' hole cards and was obviously cheating.
Johnson shared this excel file with Nat Arem, a poker player and blogger, and with Serge Ravich, a New York lawyer and poker pro. Arem traced Potripper's IP address to a part-owner of Absolute Poker, Scott Tom, and the Potripper account, to AJ Green, a former director of operations at Absolute. It turned out that AJ Green was Alan John Grimard. Earlier that month, Absolute Poker confirmed to Point-Spreads.com that Scott Tom and his wife were on a private jet headed to Columbia when the plane caught fire. They also reported that AJ Green was living in Costa Rica and paid cash for a home in Escazu. There is nothing else known about them.
ABSOLUTE'S FIRST COMMENT ABOUT THE SCANDAL.
September 17, 2007: "We have yet to find any evidence of wrongdoing. Our game client only receives data regarding the individuals hand and no other players' hole cards, except in the event of a showdown. We have researched their play exhaustively and have found no proof that they had any knowledge of other player's hole cards. So far, we have no evidence that substantiates claims that any of the players were involved in chip dumping or any other improper activity."
October 17, 2007: Kahnawake Gaming Commission, which oversees Absolute Poker, reports that they have hired a third-party auditor, Gaming Associates, to conduct an independent audit of Absolute Poker's security systems. Absolute Poker fully cooperates with Gaming Associates and its investigative team to provide all access to all systems. It is yet to be determined whether or not it was possible for any person, device, program, script, or other means to see hole cards, thereby gaining an unfair advantage.
October 24, 2007: Absolute Poker issues a statement saying that the poker site had been a victim of a breach of security in which a high-ranking consultant devised a sophisticated scheme to manipulate systems and view hole cards of other customers during play without their knowledge. The statement also reports that the problem is corrected and the perpetrator fired. Also, Absolute Poker commits to refunding 100% of the losses incurred by customers during the breach.
But it wasn't over yet…
January 2008: Kahnawake Gaming Commission receives complaints of cheating involving Ultimate Bet specifically in regards to an account using the name "NioNio." The person responsible for this account is also suspected of cheating by viewing the hole cards of other players. An initial review of the account reveals that its winning statistics were alarmingly improbable. The commission directs Ultimate Bet to backup all logs and data relevant to the "NioNio" account. UB complies. The investigation of the account quickly grew to include other accounts that demonstrated the same kind of win rates. It takes some time, but the commission finds that a method was detected by which specific users could gain access to hole card data in real-time. The commission investigation reveals 23 accounts that have a total of 117 usernames that are being used by the individuals to facilitate the cheating incidences.
But the biggest cheater is…
Russ Hamilton, a former WSOP champion. According to Kanawake Gaming Commission, Hamilton is primarily responsible for all 23 accounts.
September 11, 2009: The KGC states "The vast majority of the computer devices and IP addresses used by the cheating accounts were directly associated with Russell Hamilton. A large majority of the cheating accounts transferred money through Russell Hamilton's player accounts."
Hamilton was a previous part-owner of Ultimate Bet, and although he stole most of the money, the KGC divulges that there are in fact 31 other individuals, whose names are not released, who also benefited financially.
An independent monitor is appointed…
July 2008, the Kahnawake Gaming Commission appoints an independent monitor to investigate Tokwiro Enterprizes, the parent company of both Absolute Poker and Ultimate Bet. Catania Gaming Consultants, run by lawyer Frank Catania, was (at that time) the director of New Jersey's Division of Gaming Enforcement. His job was to assume control of the investigation and report to the Commission on its findings. It is to be a full forensic audit/investigation of the online gaming business of both Absolute Poker and Ultimate Bet. Interviews were to be conducted with all employees, past and present, all records were to be reviewed. The investigation takes more than one year. It is complex and difficult.
September 29, 2008: The old poker system that included the unlawful software has been taken down. Tokwiro has implemented a new security application that detects anomalous winning statistics in real-time. They will be audited several more times by many different firms.
THE END?…
It has been over a year since Hamilton and his cohorts stole an estimated 20 million dollars. Last February, Dave Farra of RawVegas.tv caught up with Russ as he was leaving a golf course near his home in Las Vegas. Dave confronted him; he even gave him the opportunity to defend himself, but Russ just appeared to have shutdown. He did not say a word. He put his clubs in his car and drove off. Because of jurisdictional issues, no charges have been filed, and no one seems to be conducting a criminal investigation. The offshore sites are beyond United States jurisdiction. Regulation anyone?