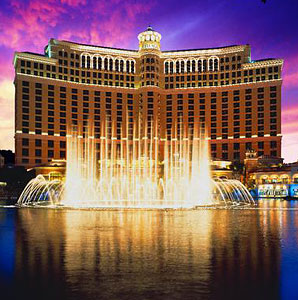 According to a story broken by the New York Post, an armed robber entered the Las Vegas Bellagio Hotel and Casino at approximately 4AM on Tuesday morning. He then approached a nearby craps table, where he grabbed an indeterminate amount of cash and a massive quantity of chips. Las Vegas police later announced that the chips were worth an estimated $1.5 million, though the amount of cash stolen is still unknown.
As seen in a publicly available 12 second video clip of the robber leaving the Bellagio, the gunman was wearing a full-face motorcycle helmet, black gloves, black pants and a black jacket. According to eye witnesses, the gunman entered the Bellagio through the north valet entrance, off of Flamingo Road near I15. The gunman exited through the same door, and was last seen traveling west on Flamingo.
A spokesman for MGM Resorts International, the parent company of Bellagio, the chips are not equivalent to cash. This means that the robber will eventually need to cash the chips. Bellagio authorities will be screening all individuals who cash high-value chips in the near future in an effort to catch the masked thief.
Amazingly, nearby gamblers remained calm and continued to play during the incident, perhaps believing that the event was somehow staged.
Although Las Vegas police have not yet announced any possible suspects, they do believe that the perpetrator may be the same person who performed a robbery at the Suncoast Casino on December 9th. In this incident, a motorcyclist robbed less than $20,000 from the casino's poker room cashier. The thief was described as a white male approximately 5′ 10″ tall.
There's no doubt that the Bellagio will be beefing up security efforts following this frightening, though fortunately non-tragic event. Maybe it's just me, but this story certainly makes me want to do more of my gambling online, and less of it in high profile casinos! Individuals with any information regarding the armed robbery are encouraged to contact Crime Stoppers at 702-385-5555 or visit CrimeStoppersOfNV.com.