written by: Steve under News Comments: Comments Off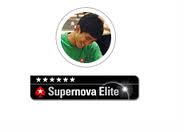 The PokerStars Supernova Elite program was designed to reward high-volume grinders with a yearly incentive after they put in a year's worth of play at the PokerStars online tables. However, Andrew 'azntracker' Li did something unprecedented on February 28th, 2011 when he became the fastest person in history to reach the Supernova Elite status.
Li accomplished the feat that is supposed to take close to a year in just 59 days (playing 50 of the 59 days) accumulating well over the necessary 1,000,000 PokerStars VPP's required to become a Supernova Elite player. The previous record was held by George 'jorj95' Lind who became a Supernova Elite on March 18.
So how did Li do it? How about playing over 14,000 Sit and Go tournaments in 50 days! Li's recent blog posts have outlined what it took to accomplish the feat, and also the perks that come along with it –Li was actually down $7,000, but with cash-back bonuses and cash-milestones he has done quite well for himself thus far.
Considering he earns 5 FPP's for every VPP earned now that he is a Supernova Elite Li explains how he redeems his FPP's for the $4k/250k FPP reward bonus (and considering he has likely earned in the neighborhood of 4 million FPP's this would work out to about $64,000 in bonuses) in addition to the VPP milestones where you are instantly rewarded with a cash bonus –topping 1,000,000 VPP's for instance is worth an automatic $20,000.