written by: John under Poker Pros Comments: Comments Off
Online poker has allowed the game of poker to grow at a faster pace than ever before. There are so many advantages to playing online vs. live that it just doesn't make sense to play live anymore. For some players, though, the only option was to play on the internet. After the Moneymaker boom in 2003, young, and often first time, players around the world made their own poker accounts. Many of these players would go on to donate their bankrolls one deposit at a time, while others went on to become the superstars of poker. Tom Dwan, Phil Galfond, and Andrew Robl are just the beginning of top players who got their start online, and new players are starting every single day.
These three players are certainly an exception to the rule, but they show how far the game of poker has come over the past 10 years. Even a decade ago, poker rooms were filled with middle aged and older players, whereas now there is almost always a 20 something at each and every table. Online poker has made the games tougher, but it has done wonders for the popularity of the game as a whole.
1.) Tom Dwan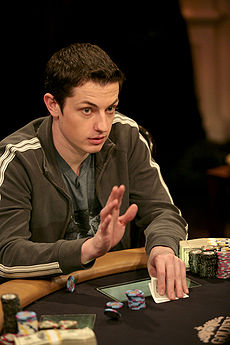 Tom Dwan is the absolute icon for the online poker generation. As one of the most recognizable names in the game, Dwan has been a great ambassador for the game. He didn't do anything particularly out of the ordinary en route to his stardom, and, in fact, he did everything by the book. Like many online poker players, Dwan started off by reading poker forums, playing in the micro stakes, and working his way through the limits. Of course, Dwan got a head start on many players, having the luxury of playing the high stakes games when they were at their easiest level. This doesn't detract from Dwan's talents, however, as he continues to crush the toughest games in the world on a daily basis.
Beyond all of this, Dwan has proven himself in the biggest live poker games in the world, and is now regarded as one of the best cash game players around.
2.) Phil Galfond
Phil Galfond is not nearly as well-known as Dwan, but he is almost as good. Many believe that Galfond might be the better overall player when it comes to poker as a whole. Galfond has always crushed the biggest online Hold'em games, but he is also a regular in the high stakes Omaha action.
Being able to dominate in Omaha is particularly advantageous right now, as Galfond doesn't even need to be the best in order to crush the major players in the game. Omaha isn't as competitive as Hold'em, but there is just about as much money in it, and this is something that Galfond clearly noticed. In time, Galfond could go down as one of the best players ever, and this is no exaggeration, he is really that good.
3.) Andrew Robl
Andre Robl took a slightly different path to online stardom than Dwan and Galfond. Instead of rocketing through the limits and playing in the highest games available, Robl decided to stick to the 25/50 and 50/100 No Limit Texas Hold'em games. This enabled him to earn a super steady win rate, mainly because the difference in skill level was enormous. If you consider that Robl could make, say, 1 million dollars per year and play relatively variance free, it doesn't make much sense for him to move up. If he did play the nosebleed games, he would be forced to undergo a ton of variance, and would be facing infinitely tougher opponents. The trade off didn't make sense for Robl, and his decision has paid major dividends.
Today, Robl can be found on a number of different televised cash games, from Poker After Dark to High Stakes Poker. Even though he focused on the lower end of the high stakes spectrum, Robl is as good as just about anyone out there.