written by: James under News Comments: Comments Off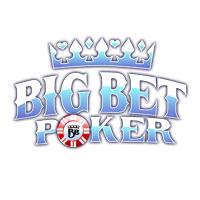 Big Bet Poker is making Mac poker players happy with version 5.0 of their new poker software. The software, which represents the first Mac-friendly version of Big Bet Poker thus far, includes plenty of improvements for Windows users as well. In a rare move, Big Bet Poker has decided to allow their growing fan base to beta test the software before it's released to the public at large. The beta version of Big Bet Poker 5.0 can be downloaded for free at the official Big Bet Poker homepage.
Several new features and upgrades are built into Big Bet Poker 5.0. For starters, the application is based on a completely new software platform, something that should greatly improve stability and reduce lag. Tournament players will love the fact that tournament lobbies can be opened in a separate window from the cash game lobby, and all players will likely appreciate the new lobby section dedicated to play money tournaments and ring games.
Some of the software improvements in Big Bet Poker 5.0 are more technical in nature: full screen mode will work and look better with all games, and the software has been optimized for use with netbooks.
Big Bet Poker is also leaving some of their lesser-used features on the cutting room floor. Very few players were taking advantage of the backgammon and euchre tables, leading to the removal of those games. Your balance will no longer be displayed at the top of the lobby, but rather in the cashier area. The news tab is also gone, and all news will now be displayed at the Big Bet Poker website.
Of course, as with any software beta test, Big Bet Poker 5.0 will not necessarily run perfectly on your computer. Bugs and glitches may affect the graphical performance of the program, and could even influence your poker play. Because Big Bet Poker 5.0 is in beta, the site isn't responsible for any issues stemming from software bugs. However, they have made it possible for players to quickly report these glitches.
Players who send in a valid bug report describing a discrepancy with the new software will be given an entry ticket to an $11 satellite tournament. The bug report submission form is located at the Big Bet Poker site in the Free Download area. Note that Big Bet Poker will only award a satellite tournament ticket to players who report a previously unknown bug. The site has requested that players submit a screenshot of the bug they're reporting, if at all possible.