written by: Jennifer under News Comments: Comments Off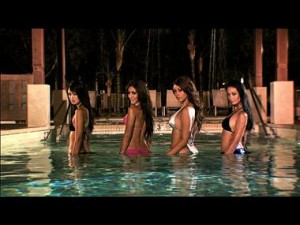 Update the TiVo settings. Program the DVR. Set the VCR, if that's what it takes. Two poker programs return to the world of television on Sunday, February 13, and the World Poker Tour and World Series of Poker Europe are the shows seeking your viewership.
The World Poker Tour looks to premiere its ninth season, again on FSN but with the new look and feel that executives have been discussing for months. While we have to wait to see if it is the "new, fresh, hip, edgy" program the press release claims, it will undoubtedly boast of some changes. Kimberly Lansing will hold down the position of the show's anchor, doing interviews and providing segues to the commentary of Mike Sexton and Vince Van Patten. Live and online poker pro Tony Dunst will also be on board for the "Raw Deal" segment, where he will give in-depth analysis and critique of a particular play or hand. And the Royal Flush Girls will make their debut as, well, eye candy.

Ninth season coverage will take the audience from Day 1 of the tournament through to the last six players standing, as well as the final table action until the WPT winner is declared. Other new features of the show include a four-color deck, new theme music, and new statistics.
The World Poker Tour will air every Sunday, at 8:00pm and 11:00pm local times (check your listings), starting on February 13 with the first of two Bellagio Cup VI episodes.
Next up is the World Series of Poker Europe Main Event. Filmed in the fall at the Casino at the Empire in London, England, the fourth season of the WSOPE will showcase the £10K buy-in NLHE WSOPE World Championship. ESPN2 will broadcast the action from the final three tables (out of 346 starting players) on through to the declaration of a winner.
The WSOP Europe will air on ESPN2 on Sunday at 10:00pm local time (check your listings), and the two-hour episode will be followed by the finale on February 20.
Question of the Day: Will you be watching?