written by: Steve under News Comments: Comments Off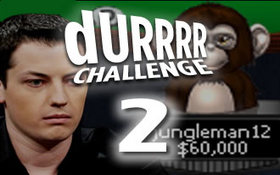 After the snail's pace that has left us with a still uncompleted durrrr Challenge between Tom 'durrrr' Dwan and Patrik Antonius that began in early 2009 –over two years ago!!!—we were told that the second incarnation of the durrrr Challenge was supposed to be something of a Turbo, as two high-volume players, Dwan and Daniel 'jungleman12' Cates, would be able to knock out the 50,000 hands in no time at all.
Well, once again the action has stagnated, and the two have played very little since late 2010. Cates and Dwan did not meet at the Full Tilt Poker tables earlier this week, but the 348 hand session did little to quell the rumblings from the railbirds and poker forum users. Dwan responded to a Twitter follower with the following Tweet: "Been rly busy. Completely my fault it's taken so long and I feel bad. Done soon."
In their most recent session it looked as if Dwan was going to cut into Cates' sizable lead, but after a short break –Cates Tweeted, "Played for 10 mins or so, Durrrr says he will brb, but has disappeared? gg?" Dwan did come back to the games about a half an hour later, although when he left he was up around $20,000, and just 100 hands later found himself down $122,000.
Cates now finds himself up $941,263.50 with 17,456 of the requisite 50,000 hands played to this point.