written by: Steve under News Comments: Comments Off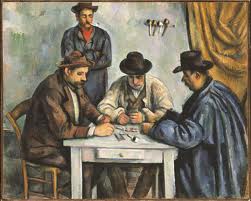 One of the most famous paintings in the world, an 1890's oil-painting by Paul Cezanne titled "the Card Players" sold for a record $250 million recently according to a Vanity Fair column. The painting is one in a series of five depicting French peasants' playing cards, created by the French post-impressionist painter, and is considered one of the most recognizable works of art in the world.
The winning bidder on the painting was allegedly the Royal Family of Qatar, having previously been owned by the now deceased Greek shipping tycoon George Embiricos who refused to part with the work until very late in his life. The $250 million price-tag more than doubled the previous auction record for a painting, Jackson Pollock's painting, No 5, 1948 that sold for £89 million in 2006.
The other paintings in the "Card Players" series are housed in some of the finest museums around the world including the Courtauld Institute of Art in London, the Barnes Foundation museum in Merion, Pennsylvania, the Metropolitan Museum of Art in New York, and the Musée d'Orsay in Paris.
According to the Vanity Fair report the painting will be shown at the Qatar National Museum; as one art appraiser, Victor Weiner, told Vanity Fair: "You take any art history course and Card Players is likely [to be] in it. It's a major, major image."
The Curator of the New York Metropolitan Museum of Art, Gary Tinterow, was quoted as saying: "Created in the 1890s while the artist was living at his family's estate outside Aix-en-Provence, these images capture the character Cezanne admired in the people of the region.
'"Together the works chart the development of the series as Cezanne strove to achieve the most powerful expression of his motif."