written by: Will under News Comments: Comments Off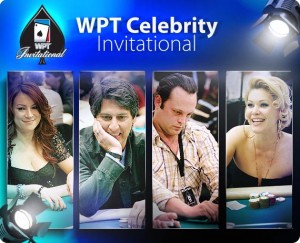 The World Poker Tour (WPT) Celebrity Invitational has announced that Chrysalis will serve as official charity partner for the second year in a row. Chrysalis is a non-profit whose mission is to improve peoples' live through employment. Since Chrysalis' founding over 25 years ago, they have helped over 35,000 people to find jobs and remove themselves from poverty and homelessness.
Mark Loranger, CEO of Chrysalis, described last year's WPT Celebrity Invitational tournament as a "tremendous success [that] allowed [Chrysalis] to further its vital mission." He went on to say that he is looking forward to another partnership with WPT in what will undoubtedly be a successful and entertaining tournament.
The WPT Celebrity Invitational is set to take place at the Commerce Casino in LA, California on February 19. The final table is to be played on March 2. Although all proceeds will be donated to Chrysalis, the winner of the event will receive free entry to the WPT Championship in 2011. The event will be hosted by Mark Steines (host of Entertainment Tonight) and Leanza Cornett (Steines' wife and former Miss America pageant winner).
Although event organizers have yet to release the names of any celebrities participating in the tournament, the rosters from previous years give an indication of the quality to expect. Some of the brightest stars in entertainment, including Cheryl Hines, Jon Favreau, Don Cheadle, Ray Romano, Vince Vaughn, Jason Alexander, Jenny McCarthy, James Woods, Jennifery Tilly and Kathy Griffin, have played in past WPT Celebrity Invitationals.
Joe Lake and Bill Overton will be handling celebrity involvement. Lake is known for co-founding the Children's Miracle Network, a non-profit organization that raises awareness and funds for children's hospitals around the globe. Lake is the Executive Producer for the CMN annual telethon fundraiser, which has raised over $4.3 billion for American and Canadian children's hospitals alone. Overton has previously worked as an actor, model and NFL player.