written by: James under News Comments: Comments Off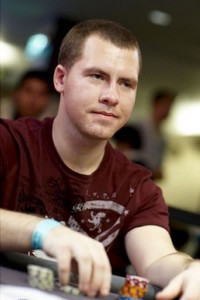 Dan Cates, better known in online poker circles as Jungleman12, ended a brief cold streak just a few nights ago when he earned $326k on his Full Tilt Poker account. This effectively erases his losses over the past few weeks, which totalled just over $300k.
Cates' evening began with a session of PLO against gavz101 and rumprammer, which included over 1,750 hands played at the $500 / $1,000 stake level. Over the course of three hours, Cates trounced his competition to further solidify his standing as one of the best online cash game players worldwide.
Cates added to his $326k score with a brief encore session at PokerStars, where he earned $30k as his alter ego, "w00ki3z." With any luck, Cates will break even on his Full Tilt account, which is now negative by only $86k since the beginning of the year.
Ilari "Ziigmund" Sahamies also showed up on PokerStars under his "Ilari FIN" account. Despite having an extremely rough 2010 on his Full Tilt Account and losing an additional $200k in 2011, Ziigmund pulled in $47k while playing against Mitch "LooneyGerbil" Carle and the aforementioned Cates.

The prolific and heavily hyped Viktor "Isildur1″ Blom made an appearance as well, in which he lost $39k to Scott "urnotindangr" Palmer. His session of 2,900 hands seemed paltry compared to his recent 6k+ battle.
Phil Ivey, who is better known as an exceptional live tournament player than an online phenom, made a brief 65-hand appearance on Full Tilt, with which he's sponsored. He lost $39k playing $500 / $1,000 PLO. Ivey is showing negative earnings of $189k so far in 2011 when only counting online play.
The evening was quite volatile for many other online high stakes grinders as well. The biggest winners aside from Cates included Gus Hansen (up $135k), Sauce1234 (up $187k) and Matt Hawrilenko (up $228k). On the other end of the money spectrum were David Benefield (down $179k), harrington25 (down $213k) and rumprammer (down $223k).