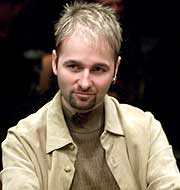 Professional poker players are beginning to weigh in on the lawsuit Phil Ivey filed against Tiltware (parent company of Full Tilt Poker) last week, and one of Ivey's most prominent supporters hails from the Team PokerStars camp: Daniel Negreanu.
Phil Ivey is suing Tiltware and boycotting the World Series of Poker to show solidarity with Full Tilt's US members as they wait for their funds to finally be returned. Tiltware fired back with a statement of their own that referred to Ivey's lawsuit as "self-serving" and "frivolous."
Negreanu was impressed, saying "I admire that he's willing to give up something like the WSOP, that I know is so important to him, for what he thinks is principally right." He described Tiltware's response as "low class" and noted how the company still hasn't made a concrete statement regarding player funds despite taking only a single day to make a concrete statement regarding Ivey's lawsuit.
Negreanu, who is currently participating in the World Series of Poker, concluded by saying "I couldn't walk these halls with a patch on for a company that is keeping people on the rail." His company, PokerStars, has started to return player funds while Full Tilt has not.
Eric Froelich, another Full Tilt sponsored pro and WSOP bracelet winner, also chose to side with Ivey. "He's making a stand for his own personal reasons and the benefit of other people and I think it's a good thing."
Andrew Robl sided with Full Tilt, saying that Ivey's statement were indeed self-serving. "He is trying to cover his own ass and unassociate himself with Full Tilt's current legal situation/non-paying of players."
Robl said that Ivey could more easily help US players by donating the money he's earned from the company to player funds, something that fellow Team Full Tilt member Tom "durrrr" Dwan promised to do if and when the site ultimately decides not to facilitate withdrawals. Robl, however, seemed sure that Full Tilt would eventually pay back its US players.
All quotes provided by PokerListings.com