written by: James under News Comments: Comments Off
Before 2009, David Jaoui was a largely unknown poker player from France. However, Jaoui woke a few people up with his appearance at the final table of Event 54 in the 2009 World Series of Poker. Finishing 8th, Jaoui cashed in the NL Texas Holdem event for a total of $87,855.00. David Jaoui sent a little reminder today with his impressive win at the French Poker Series Saint Amand tournament. This win has now fed about 63,000 Euros into Jaoui's continually increasing $300,000 in career live tournament earnings. To finish at the top, Jaoui had to outlast a total of 223 professional poker players over the course of two days. The buy in for the French poker tournament was 1,200 Euros.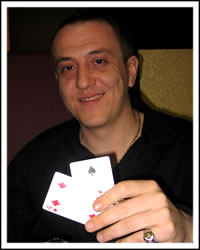 Although the Saint Amand stop had a smaller turnout than the Divonne, some of the best French poker professionals showed up to compete for their share of the tournament prize pool. Some of the players in Saint Amand included Marion Nedellec, Mylene Cogan, Thomas Bichon, Vanessa Hellebuyck and Cathy Hong. Vanessa Hellebuyck cashed in 8th place to finish the tournament.
The final table at Saint Amand included poker pros such as David Herbez, Thierry Sellam and Frank Cartigny. When the dust cleared, Herbez and Jaoui faced off in a heads up battle with Jaoui eventually coming out on top. By winning the event, Jaoui not only received his tournament check – but also received a ticket for participation in the Grand Finale scheduled to begin in Paris, France in February, 2011. To date, this is the most significant win for David Jaoui during his live tournament career – although his WSOP cash resulted in a larger prize.
David Jaoui started playing poker in September of 2007 and has, since then, cashed at live poker events 17 times. His total tournament winnings to date are $341,319. The 31 year old French poker player has now won two live poker tournaments and resides in Paris, France.
The next event in the French Poker Series is in Lyon, France on November 13th, 2010. This will also be a two day event. The FPS finishes in February of 2011.