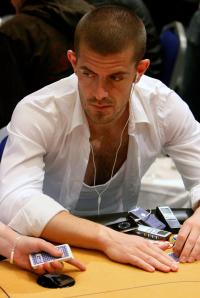 Hansen is probably wishing he chose drugs. There has been a lot of talk recently about the high stakes poker tables at Full Tilt Poker – and for a good reason. It seems that October has been the month for huge swings as Hansen has now suffered an end to his hot streak with a $150k loss to DrugsOrMe at the nose bleed $500/$1,000 Pot Limit Omaha tables. Hansen wasn't the only fish to get gobbled up by DrugsOrMe, but he certainly lost the biggest chunk. Over the course of 1,181 hands on Tuesday night, DrugsOrMe managed to rake in around $210,000 in poker winnings. Will DrugsOrMe become the worthy successor to Isildur1? Or, will the anonymous poker player fade away once he's had enough of the intense high stakes poker action at Full Tilt Poker?
After soundly thumping Hansen, DrugsOrMe switched to a daily $200/$400 poker game with notable players such as harrington25 and Urindanger. DrugsOrMe was also successful in the 6-max game – with a $210,284 night. Talk about sleeping soundly.
The biggest hand for DrugsOrMe was a PL Omaha hand against Hansen where he limped into a flop with a seemingly terrible hand – Seven/Jack of Clubs, Eight of Spades and Three of Diamonds. The flop gave DrugsOrMe his straight but he checked and called Hansen's modest $2,000 bet. The turn brought another diamond to the board for a total of two hearts and two diamonds – spelling trouble for DrugsOrMe is Hansen was holding either. However, Hansen's $6,000 bet was met with a raise to $20,000, obviously aware that Hansen was banking on hitting a flush on the river, but would not succeed. Hansen called and the river came with a Jack of Hearts. DrugsOrMe's $17,000 bet was called by Hansen but his hand was mucked.
DrugsOrMe made his/her first appearance at the high stakes poker tables at Full Tilt Poker this summer – and has since been making his mark on many of the poker professionals that like to spend their time playing Pot Limit Omaha. DrugsOrMe is quickly becoming the Full Tilt Poker high stakes player to watch going into 2011.