What's one lesson that we can all learn from Facebook? That people love poker. It may not be what you thought, but it is true. The most popular page on Facebook is not Lady Gaga; it's not even Farmville…but it is a Zynga game. It's called Texas Hold 'Em Poker and 7 million people flock to this page a day to play online poker, for FUN!
While many people think of poker as a gambler's game of luck, it's simply not the case. Poker is no longer a game just for the wealthiest, the degenerate gambler, or the consummate thief (see our post on poker in the movies if you need examples), it's become an American pastime.
However, young people who have turned to online poker as a way to make money during the recession have been met with obstacles in making it full-time. Those obstacles are all centered on legalization. There is a debate going on within our federal and state governments right now and the issue at hand is this: Should we legalize online poker? [read more below...]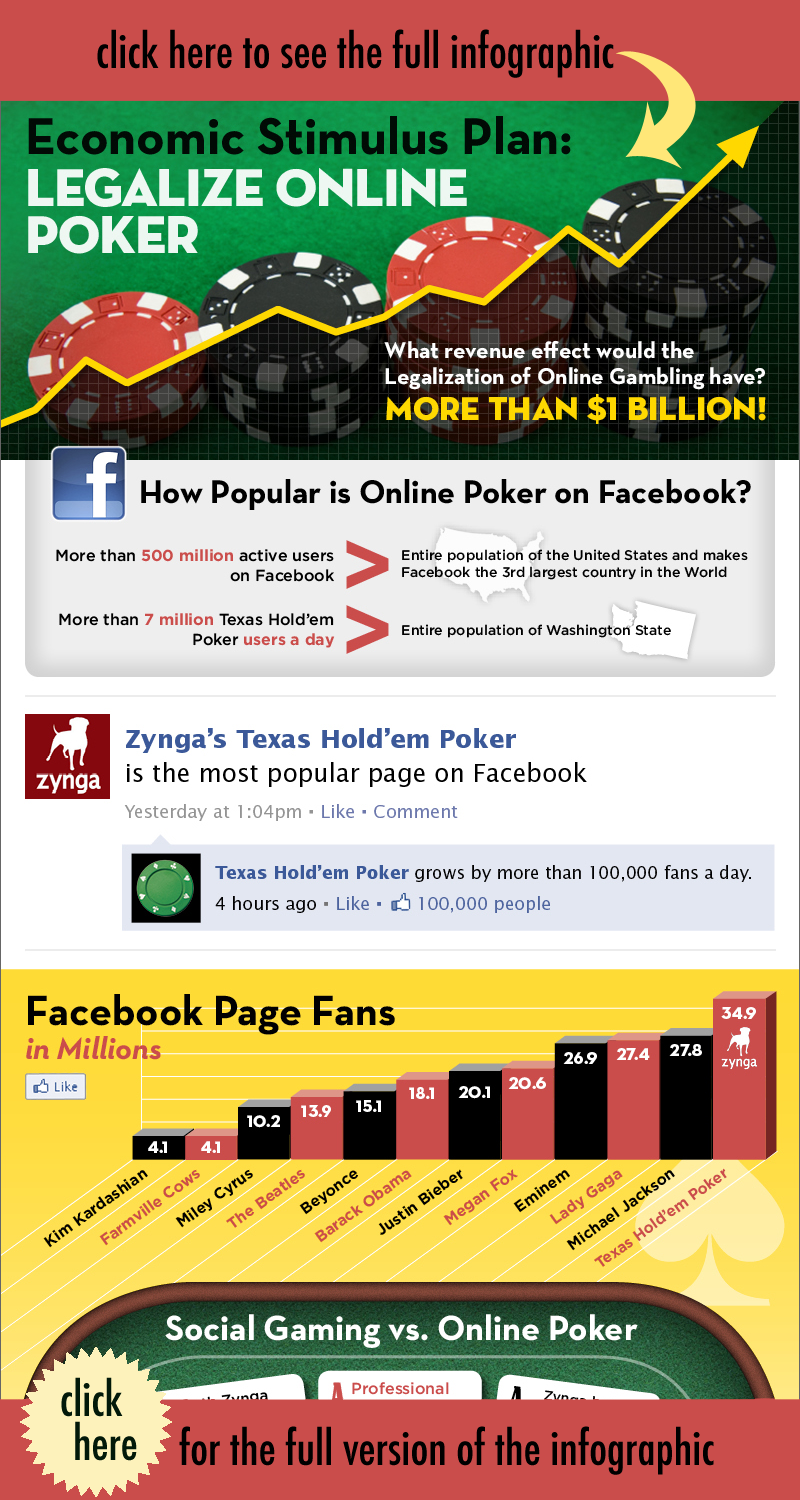 Click to view the Economic Stimulus Plan: Legalize Online Poker infographic.

If you've been paying attention, you've seen the politicians attempting to get bills implemented into our federal and state's governments to legalize online gambling. The Poker Players Alliance, in conjunction with many poker professionals, supports these attempts and feels legalization is an issue regarding safety, regulation, and economic gain.
Due to the unregulated nature of online poker in the U.S., not only are there a lack of laws to protect online gamblers, but it's easy for underage players to enter the market. Our economy also isn't benefiting from the plethora of business that could develop around the online poker industry. Since all of the U.S. laws in place strongly limit companies from engaging in online gambling, all major online poker sites are located out of the country. And so are those dollars.
A quick look at the success of Zynga shows that there are huge business opportunities in the online poker industry. The fact that this online gaming company generates such a large amount of revenue, when users don't even play poker for real money, shows the potential that exists. What kind of competitive business industry could we add to the U.S. by legalizing online poker? That's what we wanted to find out.
Embed the Infographic on your Site
Copy & paste the HTML code below to add this to your blog or Website:
<p style="text-align: center"><em><a href="http://www.onlinepoker.org/blog/economic-stimulus-plan-legalize-online-poker-infographic/" title="Economic Stimulus Plan: Legalize Online Poker Infographic">Click to View Larger Image.</a></em><br><a href="http://www.onlinepoker.org/blog/economic-stimulus-plan-legalize-online-poker-infographic"><img src="http://www.onlinepoker.org/blog/wp-content/uploads/2011/02/legalize-online-poker.jpg" width=800 height=3268 border=0/></a></p>
<p style="text-align: center"><small>Visit OnlinePoker.org to find more information on <a href="http://www.onlinepoker.org">online poker</a>.</small></p>
Share the Economic Stimulus Plan: Legalize Online Poker Infographic
Sources: