written by: Jennifer under Poker Comments: Comments Off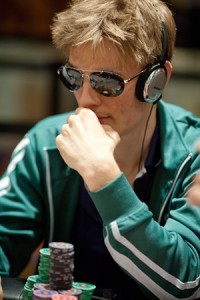 Poker players look forward to European Poker Tour events throughout the season, but the Grand Final is something most players won't miss. This year, the event moved from the long-time location of Monte Carlo to Madrid, Spain, and Season 7 was due to conclude with the tournaments and festivities at the Casino Gran Madrid.
The €10K buy-in Main Event began on May 7, and the first of the two starting days brought 302 players to the tables. Day 1B added another 384 competitors into the mix. The final numbers were then set as follows:
Total players: 686
Countries in play: 51
Prize pool: €6,860,000
First prize: €1,500,000
Paid players: 104
It was a slightly lesser turnout than the previous year, but all things considered, officials were happy with the results.
Day 1A ended with David Sonelin (pictured above) as the chip leader with 275,900, with Brian England in second (238,300), and Ben Wilinofsky, Alex Gomes, and Lucien Cohen rounding out the top five. Day 1B showed Ole-Kristian Nergard in the lead with 198,200 chips, followed by Ivan Demidov with 197,800, Mattias Bergstrom, Jean Noel Thorel, and Surinder Sunar.
Day 2 is scheduled to begin on May 9 with 309 players, leading up to the final table on May 12.
Thanks to PokerStars Blog for the live updates and credit to Neil Stoddart for the photo.