written by: Will under News Comments: Comments Off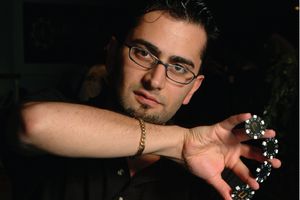 Antonio Esfandiari had more than just his birthday to celebrate on Wednesday – namely, the $870,124 cash purse he secured at the final table of the WPT Five Diamond tournament at the Bellagio in Las Vegas, NV.
Antonio "The Magician" Esfandiari is a successful poker pro by anyone's measure, earning 3.6 million career dollars from tournament winnings alone. This victory proved especially sweet for Esfandiari, now 32 years old, as it represented his first time at a WPT final table since 2004, when he finished first at the L.A. Poker Classic. Esfandiari's other recent tournament successes include making the final table at Monte Carlo's EPT Grand Final in 2008, and a deep money finish at the WSOP Main Event in 2009.
Esfandiari gained an early lead on Day 2 of the tournament and held on to it until the ranks were reduced to 15, at which point a poorly timed bluff allowed Vanessa Rousso of PokerStars to take the chip count lead. Esfandiari scrambled to make the final 6 with his dwindling chips, took a three-handed lead and busted Rousso before finally putting the win in the books.
The WPT Five Diamond's final table was a veritable who's who of the hottest names in professional poker, such as Esfandiari's friend Andrew Robl, Kirk Morrison and John Racener, who recently finished 2nd at the WSOP Texas Holdem Main Event to win $5.5 million. Kirk Morrison was hoping for a repeat of the WPT Championship success he found in 2007, when he scored a second-place finish to win $2 million. Rousso, one of the hottest players of 2009 with $1,342,590 in earnings for the year, entered the final table with a 2.6 million chip lead over Racener, who was in 2nd place at the time.
The final 6 player table at the WPT Five Diamond, including respective cash purses, is shown below:
6: Ted Lawson – $126,693
5: Kirk Morrison – $168,924
4: John Racener – $232,271
3: Vanessa Rousso – $358,964
2: Andrew Robl – $549,003
1: Antonio Esfandiari – $870,124