written by: Will under News Comments: Comments Off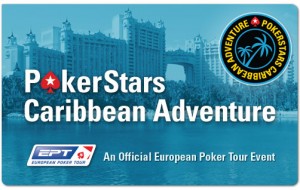 The final table of the PokerStars Caribbean Adventure Super High Roller event completed play on Saturday, with Eugene Katchalov of Brooklyn beating out Daniel Negreanu to win the $1.5 million first prize. The event drew 37 high stakes players from around the world and countless spectators, all of whom were thrilled by the $100k buy-in event.
Katchalov, who is 29 years old and immigrated from the Ukraine to the US, said that the competition was extremely tough, and that winning the event required his absolute best play. The $1.5 million first prize brings Katchalov's career tournament earnings count above $6 million. His most recent major win occurec at the WPT Five Diamond in 2007.

Although Daniel Negreanu had to accept 2nd place, his $1 million prize elevated his career earnings to $14.1 million. This makes him the most successful poker tournament player in history in terms of total cash winnings, a title previously held by Phil Ivey.
The final table at the PCA Super High Roller was packed with some of the biggest names in super stakes poker, including Humberto Brenes, Andrew Lictenberger, Bryn Kenney, Sandor Demjan and Nick Schulman. Lictenberge and Demjan busted first, followed shortly by Brenes whose $200k prize represented the first money finish of the event.
Nick Schulman began the final day of play with the chip lead, but quickly fell to fourth place after his bluff was called by Negreanu. Soon after, Katchalov's pair of Queens dominated Kenney's pair of 8s, knocking Kenney out of the event.
Katchalov later commented on some of the tribulations of the tournament, including facing off against his best friend Nick Schulman and playing heads up against Negreanu, argued by many to be the world's greatest overall poker player. Negreanu seemed to cheat death many times, such as when he managed to survive with a straight on the turn against Katcahlov's quad sixes on the river. The final hand consisted of Katchalov's 4-4-4 besting Negreanu's pocket 5s.
The money finishes for the tournament are listed below:
5. Brenes – $200,000
4. Schulman – $400,000
3. Kenney – $643,000
2. Negreanu – $1,000,000
1. Katchalov – $1,500,000