In a major attack against the online poker industry, the FBI has seized the URLs of the four biggest online poker sites in the business and the US Attorney's Office has charged 11 of the chief executives at these sites with illegal gambling, money laundering of illegal gambling proceeds to the tune of billions of dollars, and fraud.
The 11 defendants include founding members of Full Tilt Poker, Absolute Poker, and PokerStars. Five domains have also been seized, domains used by the online poker corporations to operate Internet poker games for US players. The restricted domains include PokerStars.com, FullTiltPoker.com, AbsolutePoker.com, UB.com, and UltimateBet.com.
US visitors who attempt to go to any of these websites are greeted with this less than friendly warning: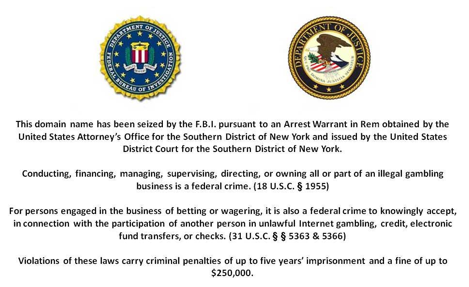 Restraining orders have also been issued against 75 banks in 14 different countries around the world that were used to process online gambling payments for these sites. The US attorney's office is demanding $3 billion in damages, and the defendants may be facing up to 20 years in US prison.
It is also rumored that the feds are seeking immediate closure of all of these websites, although they are still online for the time being, and players outside of the US are not being affected. It is unlikely that the sites will shut down all together. US players who have already downloaded the software can still log in, but when they attempt to make a deposit, they are faced with a note that this feature is not available in your area (similar to what happened to US players who logged in to PartyPoker following the passing of the UIGEA (Unlawful Internet Gambling Enforcement Act).
In fact, according to the feds, these online poker websites are in direct violation of the UIGEA that was passed in 2006 and went into effect this year these are the grounds for the sudden crackdown on online poker. Offshore poker operators have made the argument that if they operate offshore, they aren't privy to US law. However, the US government considers online gambling illegal, yet US players spend around $6 billion on online gambling each year.
The FBI claims that "approximately one-third or more of the funds went directly to the Poker Companies as revenue through the 'rake' charged to players on almost every poker hand played online."
PokerStars made a statement early this morning that they have suspended the play of real money customers who reside in the US. However, the statement also said, "Please be assured player balances are safe. There is no cause for concern." It continued, "For all customers outside the U.S. it is business as usual."
US Attorney Preet Bharara also made a statement out of Manhattan today: "As charged, these defendants concocted an elaborate criminal fraud scheme, alternately tricking some U.S. banks and effectively bribing others to assure the continued flow of billions in illegal gambling profits. Moreover, as we allege, in their zeal to circumvent the gambling laws, the defendants also engaged in massive money laundering and bank fraud. Foreign firms that choose to operate in the United States are not free to flout the laws they don't like simply because they can't bear to be parted from their profits."
Janice Fedarcyk, FBI Assistant Director in Charge, added, "These defendants, knowing full well that their business with U.S. customers and U.S. banks was illegal, tried to stack the deck. They lied to banks about the true nature of their business. Then, some of the defendants found banks willing to flout the law for a fee. The defendants bet the house that they could continue their scheme, and they lost."
Named defendants in the case, Paul Tate and Isai Scheinberg of PokerStars, Nelson Burtnick and Raymond Bitar of Full Tilt Poker, and Brent Beckley and Scott Tom of Absolute Poker, according to the feds, "arranged for the money received from U.S. gamblers to be disguised as payments to hundreds of non-existent online merchants purporting to sell merchandise such as jewelry and golf balls. "
While some of the suspects were taken into custody this morning, federal agents are working with foreign law enforcement and Interpol to find the remaining suspects still at large. Those in custody have been scheduled to appear in federal court in the next week.