written by: James under News Comments: Comments Off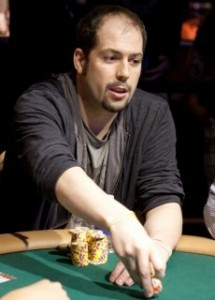 Harrison Wilder was among the players hit hardest by Black Friday, when federal domain seizures incited the four major online poker sites to pull out of the US market. For the past four years, Wilder had made a living as a professional online poker player. Specializing in Limit HE cash games, Wilder made a name for himself online, making enough money to comfortably sustain himself with only a couple of hours' worth of sessions each day.
As a college dropout with virtually no job experience above minimum wage for the past decade, Wilder wasn't sure what he'd do after finding that his livelihood had been taken from him in a single day.
So he packed his things and moved to Las Vegas, a city that just so happens to be hosting the world's biggest poker tournament as we speak. The move proved to be a wise one, as Wilder just won his first World Series of Poker bracelet – and the $205,065 cash prize that came along with it. The win came after Wilder beat Bakersfield, California resident Thomas Jamieson in the $1,500 Limit HE event.
Wilder, a resident of Portland, Oregon until only a few weeks ago, was a strict online poker player. He had barely any live tournament experience, let alone any live tournament wins. After playing just four unsuccessful tournaments in five years, Wilder said that he would've been happy with any sort of money finish at the WSOP.
Wilder said that he'll continue to grind out live cash games at the Bellagio in Las Vegas, although he admitted that his current "job" is quite different from his previous one. Gone are his two-hour work schedules, and in their place are 10-hour sessions that he can't engage in from the comfort of his own home. The $200,000 win will certainly make his ongoing transition a bit easier.