written by: Will under News Comments: Comments Off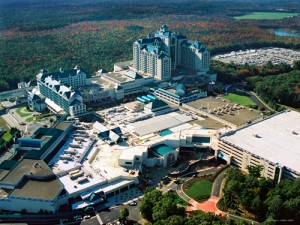 In a move that is unprecedented in the history of the World Series of Poker, the final table contestants from the 2010 WSOP Main Event will be reconvening at the Foxwoods Resort and Casino, located in Connecticut. The event is scheduled to occur on February 8, 2011 as part of the Foxwoods Mega Stack Challenge XIX.
Instead of simply rehashing the 2010 WSOP final table, the event will expand to a 27 seat format. In addition to the nine players who participated in the final WSOP table, 18 more will be added based on qualifying tournaments held at the Foxwoods in the weeks leading up to the tournament. All nine of the WSOP finalists are confirmed to be attending the event, including Soi Nguyen, Matt Jarvis, Jason Senti, John Dolan, Mike Mizrachi, Filippo Candio, Joseph Cheong, John Racener, and champion Jonathan Duhamel.

The Mega Stacks Challenge series will begin on February 4th and continue until February 13. In addition to the November Nine reunion title match, six additional tournaments will be hosted by various WSOP finalists.
Duhamel is already looking forward to the event, and stated that it will be "great to have the chance to play against [the WSOP final table players] again." Senti agreed with Duhamel's sentiments, and went on to say that he hasn't even seen some of the players since the WSOP Main Event concluded in November.
Bernard Lee, a spokesperson for the Foxwoods Resort and Casino, is extremely excited about the event, which will undoubtedly generate enormous publicity for the casino. The prize pool for the event hasn't been announced, though a modest sum of $10,000 to $15,000 is likely.
If you'd like a chance to tangle with some of the best tournament players in poker, you'll need to secure a money finish in a qualifying SNG or MTT at the Foxwoods between now and the tournament start date, February 4th. All players who do so will receive a raffle ticket for entry into the special reunion tournament.