written by: Steve under News Comments: Comments Off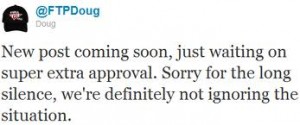 On Friday Full Tilt Poker updated its customers directly, via E-Mail, on the latest developments regarding US player funds' withdrawals from the site. Prior to this the vast majority of Full Tilt Poker's updates have come from FTPDoug on the 2+2 poker forums; the change to a direct E-Mail may signal that Full Tilt is getting ready to start returning US players' funds that have been locked on the site since Black Friday, on April 15, 2011.
While the message is still vague in terms of when the cash-out process will commence, Full Tilt has converted all tournament and ring game tickets into cash, leaving only the fate of players' FTP's (Full Tilt Points) as a major concern. I also received my first rakeback payment since Black Friday –so the payment was for the days leading up to Black Friday– which was deposited into my account as per usual.
The E-Mail also reiterated the site's official statement on pending US withdrawals from the 2+2 forums:
"Since April 15th and the days immediately following, Full Tilt Poker faced numerous challenges and hurdles to ensuring the smooth operation of its international business and the orderly return of US player funds. FTP has worked tirelessly to address these issues and has made significant progress on both fronts. FTP's international business operations are returning to normal while we focus on ensuring the safe and orderly return of US player funds. We are absolutely committed to making sure that US players are refunded as soon as possible. We apologize for the delay and the fact that we underestimated the time it would take to work through these issues. We will update our US players when we have more specific information to provide."
So while players are seeing their balances increase as tournament tickets and other promotions are turned into cash, they are still unable to access those funds!