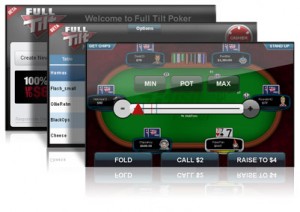 After a brief listing in the Android Marketplace, the Full Tilt Poker app was removed. There has been a lot of speculation as to why, but it's pretty obvious that they did not want a poker app available.
Luckily, I was able to download the app and share the file with all of you. Just click this link from your android browser and the app will download. Be sure to go to settings > applications > and check the box that allows you to download apps from unknown sources.
Please post any questions in the comments below.

See my original post on the app here.
Note: You can still play rush poker mobile without needing this app buy going to mobile.fulltiltpoker.com I just thought some of you would like the app.
The app is compatible with the following phones:
Acer Liquid Stream S110
AT&T Captivate (2.2 Froyo)
Cherry Mobile Magnum HD
docomo HT-03A (2.2 Froyo)
HTC Desire (2.2 Froyo)
HTC Droid Incredible (2.2 Froyo)
HTC Evo 4G
HTC Google Nexus One
HTC Desire HD
HTC Desire Z
HTC Magic (2.2 Froyo)
HTC Sapphire (2.2 Froyo)
Motorola Droid (2.2 Froyo, 800Mhz and higher suggested)
Motorola Droid 2
Motorola Droid Pro / Droid 2 World Edition
Motorola Droid X
Motorola Milestone (2.2 Froyo)
Motorola Milestone 2
Samsung Galaxy S (2.2 Froyo)
Sprint Epic 4G (2.2 Froyo)
T-Mobile G2
T-Mobile myTouch 3G (2.2 Froyo)
T-Mobile myTouch 4G (2.2 Froyo)
T-Mobile Vibrant (2.2 Froyo)
Verizon Fascinate (2.2 Froyo)