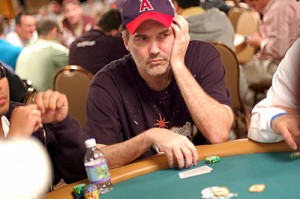 There were rumors that Gabe Kaplan was not going to be "welcomed back" for the new season of High Stakes Poker. Confirmation came today as network GSN announced information about Season 7 of HSP that will have comedian Norm Macdonald at the helm and 3D poker on some platforms.
Macdonald is best known for his 1993-1998 membership in the cast of NBC's Saturday Night Live, though he also had his own sitcom called The Norm Show and starred in numerous comedic TV and film roles through the years. But Macdonald has also become a regular player on the poker scene, playing in the World Series of Poker Main Event and charity tournaments when his schedule allows. Now, it seems, his poker knowledge, not to mention hosting abilities, will be put to the test on the microphone and in front of the cameras of High Stakes Poker.
Kaplan set the bar fairly high in his six-season stretch as HSP host and primary commentator, so Macdonald has big shoes to fill. Audiences were disappointed when AJ Benza left the show as Kaplan's co-host, and it is unclear how HSP fans will react to the latest change.

There is other new information in the press release as well. Season 7 will be filmed at the Bellagio in Las Vegas, leaving smaller venues like Golden Nugget and South Point far behind. The show will also now be produced in 3D, though it will only be apparent to viewers who watch on DIRECTV's n3D channel. (Will cards be thrown at the screen? Will Norm be literally in your face via 3D magic? The handful of people who have the channel will have to let us know.)
The show is set to premiere on Saturday, February 26 on GSN, and familiar face Kara Scott will continue in her role as the co-host. Some of the players reported to have participated in the filming of Season 7 include Doyle Brunson, Johnny Chan, Jonathan Duhamel, Daniel Negreanu, Barry Greenstein, Phil Laak, Jason Mercier, and Phil Galfond. Vanessa Selbst also played some poker, the third woman to ever play on HSP.
Question of the Day: Will you be tuning in for Season 7 of HSP?