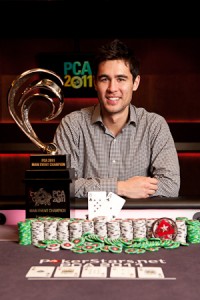 Heading into the final table of the PokerStars Caribbean Adventure Main Event final table it looked like Chris Oliver –who controlled 40% of the chips in play– was going to walk away with the title and throughout most of the final table he did nothing that would sway anyone into thinking otherwise. Oliver spent most of the day increasing his chip-stack and utterly decimating the other players at the table with his wild play, and a healthy dose of "Run-Good".
Unfortunately for Oliver, after controlling the action for some 9 hours of the final table his run ended in a matter of minutes as Galen Hall was able to turn a 37 million to 10 million chip disadvantage, into a PCA championship in roughly 30 minutes!
Hall was able to "dodge bullets" all night long, and at one point even folded a straight when Oliver had a full house, one of the better lay-downs in poker history. He finally got something going when Oliver ran into a cooler on an A-4-2 board holding bottom-two-pair; the problem was Hall held A-2 and was able to double through, and for the first time at the final table Oliver was facing a dangerous opponent in terms of chips.

The very next hand Oliver overplayed A-9 with Hall holding pocket Kings, and in the span of two hands Hall went from a 10 million to 37 million disadvantage, to a 40 million to 7 million advantage! About 30 minutes later he was able to finish off Oliver and capture the PCA title.
Here is a look at the payouts for the 8 final table players:
1.     Galen Hall $2,300,000
2.     Chris Oliver $1,800,000
3.     Anton Ionel $1,350,000
4.     Sam Stein $1,000,000
5.     Mike Sowers $700,000
6.     Bolivar Palacios $450,000
7.     Max Weinberg $300,000
8.     Philippe Plouffe $202,000