#10 – Tengu: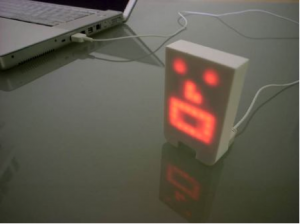 For the loner on your list, check out Tengu, the cyber friend. This is the perfect companion for the guy who has no one. He plugs right into the USB port of your computer and requires no additional software or installation. Tengu has many facial expressions to keep his master amused and responds to sound.
This is the perfect gift for the online junkie, who otherwise has little connection with other life forms. Tengu is made in China and was created by Crispin Jones, designer. Tengu costs around $30, is 2.8" tall, 1.75" wide, and .59" deep, so he's the perfect size to take with you on the go.
YouTube link: http://www.youtube.com/watch?v=ILpsUrZYGmQ
Embedded video:
#9 – Online Gift Card:
If you need to buy a gift for someone who spends a lot of time online, you might want to consider some sort of online gift card. Depending on what they spend their time doing online, you could some how facilitate their online activity for a day or perhaps enhance it. Online shopping is a given—gift cards to local retail shops spend just like cash in-store or online. Another idea for your techie friend might be a month's membership to their favorite online game or website. How about a whole year?
#8 – Credits to a Poker Room: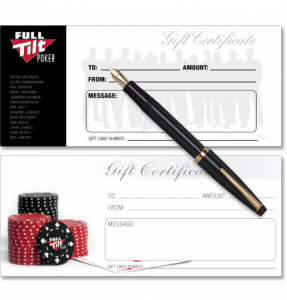 Another great gift idea for online gamers is credits to an online poker room or casino. For instance, Full Tilt Poker sells gift certificates, serving as a great way to encourage that poker player you know to take his game online. Also, many people play online casino slots and online poker in the play-money realm. How exciting would it be for them to have access to real money gambling online? A gift certificate to any reputable gambling site would be the perfect gift.
The Full Tilt Gift Certificates are fairly easy to purchase. You'll need an account yourself (don't worry; it's very quick and easy to register), so you can login and visit the Cashier. Click on "Gift Certificates" to purchase. You can buy Full Tilt Poker Gift Certificates starting at $25. Once you make the purchase, you'll be emailed a link to the online gift certificate number. You will then be able to choose from a variety of designs and styles and add a personal message to your gift. The final copy will be emailed to you in PDF form. You can then forward the certificate to the recipient, or print it out and hand deliver it yourself.
#7 -Hypnotherapy:
Give the gift of hypnotherapy. Do you know someone who wants to quit smoking or change some other bad habit? There are many local hypnotherapy clinics located in your area, and many sell gift certificates online. This gift is a bit pricey, but worth it if you have the money to spend. Depending on the individual person, a full hypnotherapy treatment that may consist of up to four one-hour sessions could cost around $400, but $100-$200 will get them started.
#6 – Remote Controlled Cooler: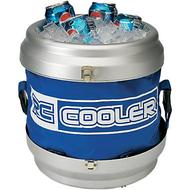 This gift is for the fat, lazy, alcoholic in your family, and whoever that is, they will love this—a remote controlled cooler that brings your drinks to you. This robotic cooler holds up to 12 cans plus ice and costs around $70; zipper lid keeps in the cold. The fully functional bottle-shaped remote moves the cooler forward, backward, left, and right. You can even use it outdoors at the next tailgate party, and when you're done, it completely collapses for ease of storage. Runs on one 9V batter and six C batteries (not included, of course).
#5 – 4 Minute Breakfast Maker: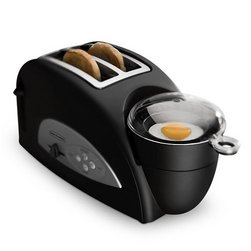 For your friend on the go, this four-minute breakfast maker will be well-received. Make your eggs and toast or muffin at the same time—that's simultaneously. This stylish update of the traditional toaster comes with a meat-warming tray and can boil up to four eggs at a time. The model pictured here, the "Back to Basics Egg N Muffin Maker Egg Poacher and 2 Slice Toaster," runs for about $50.
#4 – Road Rager Justice: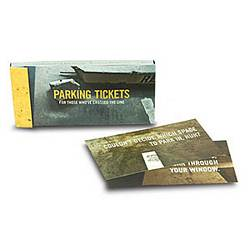 For the road rager on your holiday gift list, for less than $7, you can get a book of parking tickets that he or she will enjoy handing out on the windshields of fellow drivers. Printed on these tickets are insults and words that you know they say anyway. Now, they can say them to their face, or to their windshields anyway. The recipient of this gift will enjoy ticketing a car, then hiding out incognito to watch as the owner of the car happens upon one of 20 really bad parking tickets. Made by Shineboxprint.
#3 – Bacteria Killing Wand: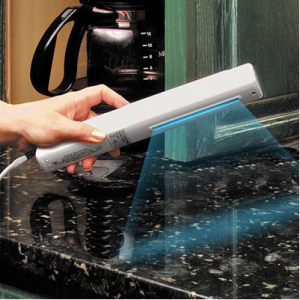 For the germaphobe in the family, get a Ultra-Violet bacteria killing wand. As seen on the Dr. Oz Show, these handy tools transmit UV rays that instantly kill bacteria on any surface with the wave of a hand. A cell phone of a Dr. Oz show audience member was analyzed and found to have fecal bacteria all over it. By simply activating the UV wand and waving the light over the surface of the phone, the bacteria was instantly destroyed. You can get these on Amazon for around $70, but you can find cheaper or more expensive models online, as well.
#2 -  HD TV:
Who couldn't use an extra TV? Prices on the fancy wall-hanging plasma high-definition televisions are lower than ever, and they come in all sizes. A decent sized and quality wall-hanging television is now only around $400, and you can get a small one for even cheaper.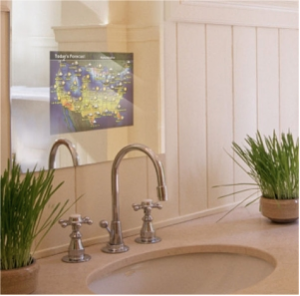 If you really want to go all out though, for a little over a grand, you can get a TV in your bathroom mirror, just like the ones in those fancy Vegas hotels. How cool would your geeky bro be if he had one of those in his bathroom? Televisions like the one shown in the photo are fully integrated LCD TVs. The actual TV monitor is only about 15" and is mounted within the mirror.
Both the television screen and the remote are waterproof, and many of these mirrors are "Made in Germany" which means they are the best made mirrors in the world. For whatever reason, Germany makes really good mirrors with highly-polished surfaces that are great for reflecting light. The actual thickness of the mirror is only 1.75" thick (45mm) and features a fog-free screen with built-in heat that keeps the television from beading up with water from steam.
#1 – Personalized DNA Artwork: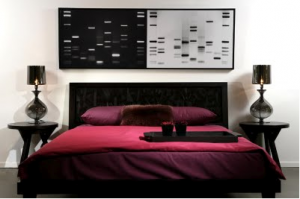 What better way to explore the true beauty of a human being than to display their DNA in art form? This may sound silly, but it is actually very beautiful artwork and starts at only $199 (see photo). These DNA prints come in bright and vivid colors defining the recipient in the most finite way—with their DNA strand. Also available is finger print art and lip print art.
To order this for a friend you could buy a gift certificate online, or you'd have to provide the artist with a swab of his/her saliva from the inside of their mouth. This is similar to the paternity test kits that you may or may not be familiar with. Even sweeter would be to give someone your own DNA print—a true sign of love. If this is a gift for your significant other, whenever you get in a fight or do something wrong, you can always say, "But I gave you my DNA!" They'll never be able to one up you. What more could you give someone?
Here's the website I found: http://www.dna11.com/about_affiliate.asp