written by: Will under Poker Comments: Comments Off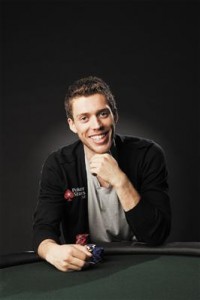 PokerStars made an incredible sponsorship deal when the site signed Pius Heinz earlier this month, just before he went on to become the first German poker player to ever win a World Series of Poker Main Event. The world's biggest online poker site is already aiming in a new direction with its next sponsorship deal, announcing that Olympic gold medalist Marcus Hellner would be coming in as the team's newest member.
Hellner has won two Olympic gold medals in cross-country skiing. PokerStars' announcement that the Swede would be joining its professional team came on Thursday. You can expect to see Hellner making appearances at live PokerStars-sponsored events, and you may even get the chance to play directly against him on the virtual felt if you keep an eye out for the handle "M.Hellner."
Both of Hellner's gold medals came at the 2010 Vancouver Winter Olympics, when he took first place in both the 4x10k Relay and the 30k X-Country. He continued to prove his cross-country dominance in 2011 when he emerged victorious in the Nordic World Ski Championships.
Hellner first became known in the poker world in 2010, when he faced off against fellow Olympian Peter Northug in the World Series of Poker. The festivities includes a Main Event last-longer challenge, a match of heads-up hold'em and a televised roller-ski race right on the pavement in Las Vegas.
Hellner is far from the first professional athlete to strike a sponsorship deal with PokerStars. Team PokerStars SportsStar already includes names such as Gulater Salles (pro race car driver), Fatima Moreira de Melo (pro field hockey player), Sebastian Chabal (pro rugby player) and Boris Becker (pro tennis player).
Although Hellner primarily sticks to Hold'em and Omaha, he said that he's looking forward to learning new game types from his new teammates.