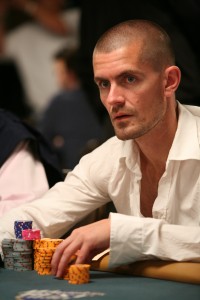 There's a good reason that Gus Hansen has been making a lot of news recently. The Great Dane has been putting on a show the past few weeks and, most recently, conquered his old foes DrugsOrMe and Ziigmund for a huge $264,000 win last night.
This puts Hansen up to $300,000 for the month of November. After suffering major losses during the year, Hansen has turned a -$3,000,000 into a year that might break even – or even become a profitable one. As of last night, Gus Hansen has fought his way back up to being down only $1,600,000 for 2010. This means that, during October and this mere few days of November, Gus Hansen has fought his way back by winning nearly $2 million at the high stakes poker tables at Full Tilt Poker.
Last night, Hansen took his seat at the familiar high stakes PL Omaha tables for nearly 700 hands against, in addition to his two frequent enemies, players like Arbianight and Ingenious89. Hansen seems to have found the sweet spot as far as game variety goes – he has been frequenting the $500/$1,000 PL Omaha tables along with the six handed $200/$400 Omaha games. But last night, Hansen was able to chop two players for at least $100,000 each in Heads Up play. Ziigmund lost about $100,000 to Hansen during the night. However, DrugsOrMe took the bulk of the hit with a $150,000 loss last night. Ziigmund is likely feeling the hit the hardest as he has been losing money all through the month of October and early November – adding to a -$652k year.
One of the players competing against Hansen actually managed to pull off a profitable night up $98,000. All told, DrugsOrMe lost about $198,000 at Full Tilt Poker when the dust had cleared. Joining him in the losers' column were Arbianight and insyderr, each losing around $60,000.
A critical hand came for Hansen when he held the Jack/Queen/Six of Diamonds and the Five of Hearts against Ziigmund's unknown (but most likely powerful hand). Ziigmund raised $3,000 before the flop and Hansen called. The flop came three suited with Two/Three/Four. Of course, this gave Hansen a low straight right off the bat with no danger of a Flush on the board. Hansen bet $3,000, which Ziigmund called. The turn came with a Queen of Clubs, renewing the possibility of a Flush on the river. Hansen bet another $12,000 and Ziigmund once again simply called. The river was an Eight of Diamonds that resulted in a $22,000 bet from Hansen that was called by Ziigmund. Ziigmund's hands was mucked and Hansen brought in an $80,000 pot.