written by: James under News Comments: Comments Off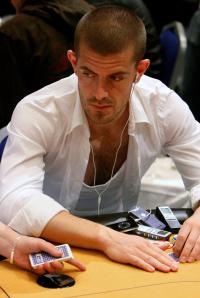 Many of Gus Hansen's biggest fans and detractors alike were beginning to think that the Great Dane was on the verge of another massive downswing, similar to the one he experienced in Summer 2010 after starting the year with millions in earnings. Fortunately for Hansen, his brief rough patch seems to have ended before it really even started, as he won $565 over the course of the past week.
Hansen played over 15,000 hands in one week, rotating mostly between PLO at $300 / $600 and $200 / $400. Straying from his usual heads up sessions, Hansen played 6-Max against big names like trex313, POKERBLUFFS, David Oppenheim, Tom Dwan, UarePileous, harrington25 and FinnishNightmare. He played a total of 131 sessions to earn his half million-plus.
The week sharply contrasted the first days of April, which saw Hansen losing $1 million in only a week. Hansen is now positive by $3.6 million for the year once again.
Two relatively unknown online high stakes players managed to virtually match Hansen's success: Seb86 grabbed $412k while FakeSky earned $499k.
Scott "URnotINdanger2″ Palmer also turned around his downswing to earn $344k for the week. He's now positive by $472k for the year. He was closely followed by Ben "Sauce1234″ Sulsky, who played just over 1,800 hands to earn $314k.
POKERBLUFFS had the worst week of any high stakes online player, losing $463k largely at the hands of Hansen. The second biggest loser was Lance84, who dropped $332k. Kagome Kagome continued his losing streak by dropping $321k, putting him in the red by $2 million since the start of 2011.
Tom "durrrr" Dwan also continued his trend of poor performance with a $288k loss. This is one of the worst years on record for Dwan, who is now negative by $2.4 million for the year.