written by: Will under News Comments: Comments Off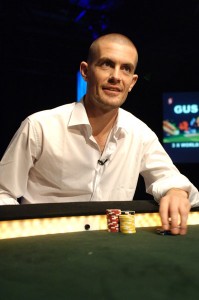 Gus Hansen continued building steady momentum a few nights ago with a massive $401k win on Full Tilt Poker. The Danish online poker pro is undoubtedly hoping to keep that momentum alive through the fast approaching World Series of Poker.
The Great Dane engaged in 2,360 hands to win the massive sum, adding to an already impressive $337k he won just the previous night. Hansen is now positive by $1.3 million only in the past week, and he's nearly back to the $4 million yearly profit milestone that he originally surpassed weeks before Black Friday.
As per usual, Hansen faced off against rival Patrik Antonius (among others), getting his money in at 6-Max PLO tables at the $300 / $600 stake level before dabbling in the $3,000 / $6,000 Omaha Hi Lo games.
Antonius struggled throughout, losing $241k. Over the past couple of weeks, Antonius has enjoyed several winning sessions, but not enough to make up for his losses to Hansen. Antonius is barely positive by $1 million for the year, a disturbing fact considering that he was ahead of Hansen only a few weeks ago.
Newly Canadian online pro Cole South also made an appearance only to receive his own thrashing from Hansen. South logged off with a $161k hole in his pocket.
Ilari "Ziigmund" Sahamies gave an impressive performance that night as well, earning $169k while using his PokerStars handle Ilari FIN. Most of the money came from Viktor "Isildur1″ Blom, who gave up a total of $197k via PLO at the $50 / $100 stake level. Blom had finally reached the black for the first time in months only a few days ago.
Other success stories for the evening included doubleU2 (up $28k), Cinderella03 (up $38k) and ronnyr37617 (up $105k). Players such as Jens Kyllonen (down $32k) and O Fortuna PLS (down $109k) scored notable losses.