written by: James under News Comments: Comments Off
Although Gus Hansen's performance at the high stakes online poker tables has been a mixed bag since Black Friday, the Great Dane appears to have his sights set on regaining a big margin of victory in 2011′s online poker leaderboards. He made enormous progress towards that goal this past weekend with a win totaling almost $700k.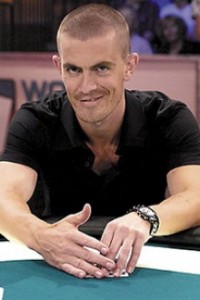 Hansen played almost 2,200 hands of Pot Limit Omaha against arch nemesis Patrik Antonius at the $300 / $600 stake level, and notable pros Esvedra and O Fortuna PLS made appearances at the table as well. Prior to this session, Antonius was ahead of Hansen in yearly earnings. By the time the pair logged off for the night, Hansen had raked in $686k. This makes him the biggest online poker winner of the year once again with roughly $3.5 million in profit.
Although Hansen and Antonius are rivals at the online tables, the two are actually good friends outside of the game. They continue to reign over Full Tilt Poker as two of the most dominant post-Black Friday forces online, trading hundreds of thousands of dollars on a near-nightly basis.
Antonius took a severe beating over the weekend, losing a total of $816k. The Finnish online poker pro is now positive by only $1.6 million for the year. Amazingly, it only took a single weekend for Antonius to go from the winningest player of the year to having a nearly $2 million deficit in comparison to Hansen.
Aside from Hansen, the weekend's biggest winner was O Fortuna PLS who pulled in $361k.
Viktor "Isildur1″ Blom continued to impress on PokerStars with a $72k win. Blom also struggled prior to Black Friday, at one point going negative for the year by $500k. A shift in momentum puts him only $78k away from the black.
Although Antonius was the biggest loser of the weekend by a huge margin, major pros including PepperoniF (down $47k), Esvedra (down $57k), Jp kelly (down $59k), ZInsenamnn (down $74k) and FakeMonies (down $175k) suffered as well.