written by: James under News Comments: Comments Off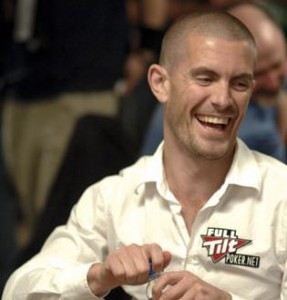 Over the past few weeks, Patrik Antonius and Gus Hansen have been been constantly switching roles as the biggest winner and biggest loser in online poker on a near-nightly basis. It was Hansen's turn to shine a few nights ago, when he earned $337k on his sponsor site, Full Tilt Poker.
Hansen engaged in 567 hands of poker, including heads up Pot Limit Omaha sessions against DrugsOrMe and Antonius at the $300 / $600 stake level. A brief session of 2-7 Triple Draw against German online poker pro O Fortuna PLS at the $1,500 / $3,000 stake level secured his fortune.
Hansen struggled early on in May, but it appears as though he's picked up momentum exactly when he needs it: just before the beginning of the 2011 World Series of Poker. He's the biggest online poker winner of 2011 once again, holding $3.5 million in yearly profits.
Second place on the year's online poker leaderboard is Dan "Jungleman12″ Cates, positive by $1.9 million. Cates will remain at this level indefinitely unless he finally decides to relocate from the US to skirt around Black Friday's online poker ban.
Antonius suffered a miserable evening, losing a massive $248k and moving further away from the top spot on the leaderboard, a position he held less than a couple of weeks ago. Hansen also stomped O Fortuna PLS, causing the German pro to lose $157k.
Gavin Cochrane, aka gavz101, represented the worst player of the night on PokerStars where he dropped $91k. He remains the winningest player of the year on the site with $1.8 million to his name despite a recent cold streak. Viktor "Isildur1″ Blom continues to chip away at Cochrane's lead, winning $35k that evening.
Other losers included DrugsOrMe (down $53k), Halfprice (down $56k) and SanderB12 (down $61k). Notable winners included ReadYrSoul (up $41k), le kork (up $51k), FinnishNightmare (up $55k) and Esvedra (up $83k).