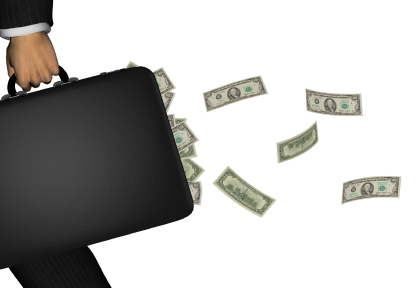 So you're going to Vegas… let's just say you're a Vegas Veteran (that's anybody who has been there at least once). You have a feel for the place, and this time you want to gamble a little smarter. You're not going to fall for the bright lights and free drinks this time. You'll have more money to gamble with if you pay more attention to all the nickel and diming going on around you. Believe me, it adds up.
CASINOS ARE HOPING YOU'RE NOT PAYING ATTENTION TO THIS
PAYBACK—Casinos often advertise that their slot machines pay out a very high percentage of the money they take in, 95% payback being a common claim. These numbers can be misleading. Advertising 95% doesn't mean that all the casino slot machines are paying out at that level all the time. It's true that each slot is programmed to return a percentage of the money players feed into it—anywhere from 83 to 99% over a long period of time, says Jeffery Compton, a gaming analyst at Compton Dancer Consulting—but not all pay out the same percentage. So at any given point, some machines pay out nothing while others pay out  much of their intake. To arrive at the 95% figure, casino management simply limits the scope of its claim to a subset of slots machines that will deliver a 95% payout. So don't be fooled by the casino's marketing efforts. If you feed $100 into a slot machine on any given day, there is no guarantee that you will get $95 back on that day or ever for that matter.
The casino has the mathematical advantage in every game. The approximate house advantage for each casino game, given the rules common in Vegas Strip casinos, is:
Craps          1.4% (drops to about .7% with odds bets)
Blackjack     1.5% (when using he complete "basic strategy")
Roulette       5.3%
Slots             2.0% on the few "loose" machines to 25%
Now you see why casinos consider slot machines their "bread and butter," and why poker is becoming so popular.
COMP CARDS—A comp means free, right?  In most cases yes, but not everywhere. At Coast Properties in Vegas, when you pay for a meal with your points, they deduct sales tax from your points along with the cost of the meal. This means you are paying about 7% more than you need to. Casinos have developed sophisticated techniques for targeting and profiling repeat gamblers. Harrah's Entertainment has led the way, hiring marketing experts and even a Harvard professor to make up for comp losses. In 1997, the company began gathering details on players when it rolled out its Total Gold frequent gambler card (now called Total Rewards) and has built a database of 19 million people. The cards are marketed as a prestige item that helps players accumulate comps such as free rooms, meals, and show tickets. The spending bar is usually high for most of the "rewards" and since the games favor the house, odds are a gambler will have to lose a lot of money to rack up points. But the real purpose is to track the habits of each customer and tailor a marketing plan that keeps you coming back. If you are a big bettor, you'll soon realize they know a lot about you. Expect a birthday card from them. Comp records are only good for about 18 months.
ROOM SERVICE RIPOFF—Room service tipping is a complete insult (not to mention the price of the food). You are forced to tip 18% before you even receive your meal. They call this a service charge, but it is nothing  more than another word for tip. What happens if the meal takes two hours to be delivered? What if the meal is not hot? What if they bring you the wrong order? You still have to pay 18%! And if you are unaware of this, some room service clerks may act like they aren't already getting a gratuity and will have their hand out again. Tip: Always check your receipts.
ATM FEES—Ok, this rip-off happens in lots of places, but it seems every casino in the country charges an exorbitant ATM fee, as much as $4.99 (and that doesn't include what your own bank is going to charge you), for the pleasure of spitting out some of your own money that you are expected to lose back to the casino anyway. A way to avoid this is go to the local Walgreens (there's one close by to the Venitian at the Palazzo. Pick up some bottled water and get up to $40 cash back with no fee. If you need more than $40, will you'll have to go to the BofA off the Strip. Or just bring the cash with you and put a limit on what you are going to spend from the beginning, unless you just have no will power whatsoever.
BIG TIPPER?—Everyone in Vegas has their hands out for a tip these days. Certain service employees should be tipped well for proper service. These include cocktail waitresses, food servers, and maids. Most of these employees are earning minimum wage and support their families on tips. A helpful casino dealer is also worthy of an occasional tip. Don't tip them too much: a dealer at the Hard Rock makes $80K per year with tips. Also, bartenders belong to labor unions and have a base salary that is substantially higher than minimum wage. The tip plate at a buffet is another gripe. I could see leaving a tip where the cook goes out of his way to prepare something special for you. But to tip a buffet chef (who is already getting a decent paycheck) and where you already paid $30 just to sit down?
HOTEL FEES AND SURCHARGES—There are a lot of these so we'll address each one below:
Energy Surcharge—this fee is a disgrace since the typical guest spends so little time actually in the room. You'll find this on your bill at around $3.50 a day.
And since when does a toll free phone call cost $1? This isn't a new policy; it's been around for years. What is new is that some hotels charge $1 per day for local  phone calls even if you never pick up the phone.
Need to use the safe in your room? They're not free either. Some places, such as the Las Vegas Hilton, charge you $1 per day for the safe regardless of if the safe is ever used or not.
Resort fees—If you are staying in a "resort" or even if you're not staying in an actual "resort," you may be charged a daily "resort fee." These charges can range anywhere from $12 per day up to $30 per day, increasing your nightly rate significantly. And again, the hotels do not care whether or not you use the resort amenities; you are still subject to these fees.
Just keep these things in mind when you visit the casino and enjoy yourself without spending more than you have too.