written by: Will under News Comments: Comments Off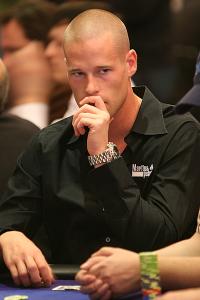 The wait is over for all of the railbirds who have been patiently anticipating the return of Patrik Antonius' rivalry with online poker legend IHateJuice. Just a few nights ago, Antonius and IHateJuice battled it out over nearly 1,700 hands of extremely high stakes poker. The game of choice for the evening? Heads Up LHE, played from start to finish at the the $3,000 / $6,000 stake level.
IHateJuice took off to a massive lead when he took $241,000 from Antonius in a single table. Antonius quickly bounced back and reclaimed all of his money over the course of 50 hands. A slugfest ensued, with Antonius and IHateJuice chipping away at each others' stacks until a massive tipping point, in which IHateJuice took $493,000 at one table in almost the same instant that Antonius won $385,000 at a second table.
Although millions of dollars were wagered over the course of the night, IHateJuice closed out the evening with a $73,000 lead, mere chump change for these players. The close battle only reaffirmed why this is one of the best rivalries in all of online poker.
Newly signed PokerStars pro Isildur1 had quite an evening as well, in which he took over $60,000 from Full Tilt Poker pro PepperoniF during hundreds of hands of $25 / $50 PLO. PepperoniF, who is better known as Rui Cao and gohanounet, expressed interest in facing off against Isildur1 in the ongoing Superstar Showdown at PokerStars. Isildur1 seemed game, but informed Rui Cao that he'd have to get in the back of the line.
Other notable finishes in high stakes online poker included URnotINdanger2 (+$33k), alric1400 (+$40k), Urindanger (+$76k). The biggest losers of the past couple of days include O Fortuna PLS (down $59k) and Gus Hansen (down $72k).