written by: Will under News Comments: Comments Off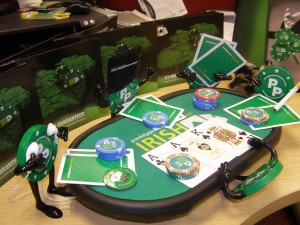 The Irish Masters poker tournament has ended as another successful event for the ever growing Paddy Power. Finishing in 1st was the Irish poker player Nicholas Newport – who took home the trophy along with a 125,000 Euro check. The Irish Masters is one of Newport's first major tournament win is his young but already successful poker career. Other cashes for Newport include the UKIPT, where Newport finished in 10th place and the Irish Poker Series. This year, the Irish Masters poker tournament hosted a total player field of 346 players – who each paid 1,650 Euros for their shot at the big check.
Charlie Harvey came close with a 2nd place finish – ending the tournament in a heads up battle against Newport. The winner of the Paddy Power Sole Survivor promotion (where the winner was the last remaining player to have qualified from PaddyPowerPoker.com) was Tomaz Kogovsek, who took home a 20,000 Euro cash prize for his efforts.
The Irish Masters was also host to a Guinness World Record where the tournament organizers built the largest ever stack of poker chips. This stack weighed in at nearly a ton and stood 3 meters tall. Tournament organizers were working hard to establish the Irish Masters as the premiere European poker tournament and, in addition to promotions offered to all participants, constructed the poker chip stack and offered a 500,000 Euro main event prize pool.
The final table in the Irish Masters was as follows:
Schick, Dorlan
Brownson, Stuart
Tononi, Ivan
Quinn, Seamus
McCloskey, Dominic
Finneran, Tom
Harvey, Charlie
Newport, Nicholas
During his career, Nicholas Newport has cashed a total of four times and earned a little over $200,000 in live tournament winnings. He currently resides in Ireland.