written by: Steve under News Comments: Comments Off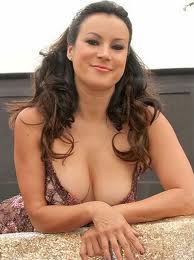 On Tuesday's Late Show with Craig Ferguson, actress turned poker player Jennifer Tilly made a startlingly admission to the late-night talk-show host, telling Ferguson that the stresses of the game make her want to quit: "Poker is an ongoing session of never-ending agony," Tilly told Ferguson.
Despite a decent amount of success at the poker tables, Tilly has never managed to shake the stigma that so many Hollywood types turned poker players are tagged with, which is that the only reason they get on TV is because of their fame (which is for the most part true).
It was unclear if Tilly was stating how she feels at different times (I think we've all had thoughts of quitting the game after particularly bad runs), or if she is truly pondering giving up the poker lifestyle and maybe heading back to Hollywood –which would seem to present its own stresses.
Tilly won the World Series of Poker Ladies Championship back in 2005 after learning the game from her now long-time beau Phil Laak, and since then has appeared on a number of televised poker programs including the WPT, Poker After Dark, and PokerStars Big Game.
Despite all the grief she receives on the poker forums, Tilly is always in a pleasant mood, engaging, and enjoying herself at the poker tables, hopefully Jen puts a little more thought into her decision and doesn't simply give up on poker.