written by: James under News Comments: Comments Off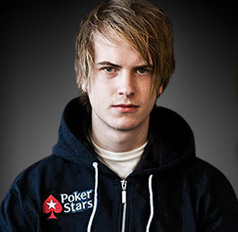 Viktor "Isildur1″ Blom continues to impress in the PokerStars SuperStar Showdown series, in which he now holds a 3-1 record after beating Eugene "MyRabbiFoo" Katchalov just a few nights ago. Thus far, Blom has also conquered Dan "Jungleman12″ Cates and Tony G in the series, while his only loss was at the hands of the methodical Isaac Haxton.
The match between Blom and Katchalov included the SuperStar Showdown standard 2,500 hands and a $150,000 chip stack for each player. This time, the game type was $50 / $100 heads up NLHE. After four hours of play, Blom was positive by $111k.
In terms of money, this was Blom's biggest win so far in the SuperStar Showdown series. Over the course of all four matches, Blom has earned $165k. A paltry sum compared to Gus Hansen's recent winnings, for example, but certainly enough to solidify I1′s standing as a strong, versatile member of the Team PokerStars roster.

The latest match in the series was a bit more boring for the railbirds than previous matches, as 45 minutes passed before a single all-in move occurred. Halfway through the 2,500 hands, the Blom and Katchalov were essentially tied.
Katchalov himself was apparently even more bored with the match than the railbirds, as he bought into the PokerStars Sunday Million during his bout with Blom. Katchalov failed to enter the money in the tournament. The lesson? Don't multi-table against one of the best heads up players in the world while simultaneously playing in the most competitive online tournament of the week and expect a positive return at the end of the day.
The match began to fall heavily in Blom's favor near the end, when the Swede raked $48k on turned kings and proceeded to draw Katchalov's pocket jacks all-in only to settle the match with pocket aces.
Among the railbirds was Daniel Negreanu, also of Team PokerStars. Many are citing Negreanu as a future competitor for Blom in the SuperStar Showdown. Negreanu, who was logged in as KidPoker, remarked that Blom "might be pretty good after all."