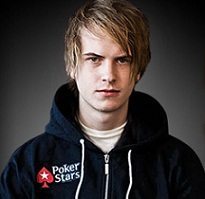 Although Isildur1 certainly made a statement (and a strong bid for best heads-up online poker player worldwide) when he trounced Daniel Negreanu in the SuperStar Showdown over the weekend for $150k, his week started off with a whimper, losing $423k in a single evening.
As usual, Blom played a prolific session of 4k+ hands, mixing in PLO and NLHE at the $50 / $100 stake level. However, his volume didn't really mitigate the $467k beating laid on him by Full Tilt Poker's Rui Cao, who plays as PepperoniF on PokerStars.
Blom was able to recoup some of his losses with a small win over Dan "Jungleman12″ Cates playing NLHE. His negative earnings settled at $423k for the night.
Blom has had a hot and cold year so far on PokerStars, and he's now sitting at the more frigid end of the money spectrum with $500k in losses since the beginning of 2011. Blom will look to make some progress towards the black this coming Sunday when he'll face Negreanu once again in the SuperStar Showdown on PokerStars.

Gus Hansen, who is perhaps the only online poker player to receive as much attention as Isildur1 so far this year, made headlines once again with a $135k win on Full Tilt Poker. Hansen amassed his chips playing PLO at the $500 / $1000 stake level. Including his wins from the weekend, Hansen is now positive by almost $4 million for the year.
Surprisingly, Hansen hasn't actually experienced a winning at the online tables since 2006. Barring a massive catastrophe, that will likely change when 2011 comes to a close.
Other success stories of the night included LokoIsBack (up $57k), gavz101 (up $64k), Ben86 (up $71k) and rafaelamit (up $142k). Losers including JonCage06 (down $76k), ChrisFun123 (down $86k), harrington25 (down $104k) and Dan Cates (down $124k).