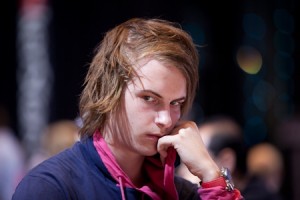 At least, as most of the poker world is believing. The reputed online poker legend, Isildur1 is now rumored to be Viktor Blom – a Swedish poker professional. If this is true, Isildur1 is in the lead at the WSOPE Main Event going into Day 3. While it is certain that Blom owns the online poker account "Blom90," Viktor Blom has many poker players convinced that he is also one of the most famous online high stakes poker players of this generation – despite his refusal to confirm or deny the statements. Blom has also refused to grant an interview on the subject.
Isildur1 made his name well know in the Fall of 2009 when he began to sweep through high stakes poker on Full Tilt Poker. One of the reasons that many are tying Blom90 to Isildur1 is that Blom90 made a smash appearance in the beginning of 2009 – amassing a large bankroll on multiple European poker sites before literally vanishing from the online poker world.
Isildur1 has now been associated with wide swings. Of the ten largest online poker pots in history, Isildur1 has taken part in seven. Most recently, Isildur1 suffered a huge loss to Patirk Antonius, losing a 7 figure pot. However, he also soon won a 7 figure pot against the poker professional Phil Ivey. This makes Isildur1 the only online poker player to have both won and lost a pot in excess of $1 million.
Going into day 3 of the 2010 WSOPE Main Event, there are 66 players left to contend with Blom. Close behind him is the Serbian poker professional Bojan Gledovic. Phil Ivey is also looking for vengeance and is part of a group following close behind the top two tournament players. Included in this pack are Barry Greenstein, Nick Schulman and some of the best US poker sites players online.
While two November Niners will have to get ready for the WSOP Main Event final table early (John Racener and Filippo Candio) one is still left battling at the WSOPE tables – John Dolan. Joining him are JP Kelly and Freddy Deeb. Joining the rail after being eliminated on Saturday are Phil Laak, Jennifer Tilly and Jason Mercier.
With 346 players turning out for the 2010 WSOPE Championship, a more than £3 million prize pool will allow Isildur1 to take home more than £830,000 if he should hold the lead. However, with Ivey and Gledovic close on his heels, it will likely be a memorable Main Event with plenty of huge swings – something Isildur1 is probably looking forward to.