written by: Will under News Comments: Comments Off
Swedish online poker player and sponsored PokerStars pro Viktor "Isildur1″ Blom has barely shown his face around the high stakes tables since Black Friday, a curious occurrence given that Blom plays from Europe and not the US. That changed a few evenings ago when the Swede returned to PokerStars with a triumphant win to the tune of $183k.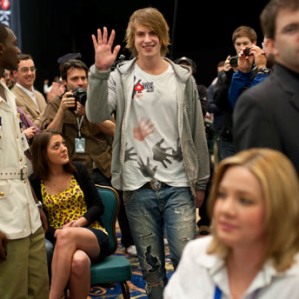 Blom engaged in 1,576 hands of heads up PLO at the $50 / $100 stake level, mostly against successful online poker pro Ben "Sauce123″ Sulsky. After around 600 hands, US-born Sulsky all but crumbled giving up $100k.
Blom was apparently unsatisfied, as he moved on to the $25 / $50 heads up PLO tables where he found gavz101 and adiprene1. Blom's momentum carried nicely, allowing him to ultimately log off for the night with his nearly-$200k prize.
The win is a milestone victory for Isildur1, who was in the midst of humiliating downswing that started as early as March. Blom was negative by almost $400k by the time April began, though a few key sessions have helped him drop that deficit down to $250k.
Aside from Blom's dramatic victory, must of the action for the evening occurred on Full Tilt Poker, where lesser known players such as davin77 (up $79k), UarePileous (up $86k), LFmagic (up $103k) and SanderB12 (up $122k) reigned supreme.
Back on PokerStars, noted pro ZInsenamnn caught a massive snag in his upswing when he encountered gavz101 and Sauce123, both of whom were hungry for blood after the beating they received from Isildur1. Both players won back virtually all of the money they lost to Blom, leaving ZInsenamnn with a $198k hole burned into his bankroll.
Other popular figures at PokerStars incurred devastating losses of their own, including unidentified Canadian player XWING (down $100k) and German LHE expert O Fortuna PLS (down $101k). O Fortuna remains positive by $603k for the year while XWINK is still up by $130k. XWINK's decision to stick to the mid stakes $25 / $50 tables has, so far at least, proven to be a wise one.