written by: James under News Comments: Comments Off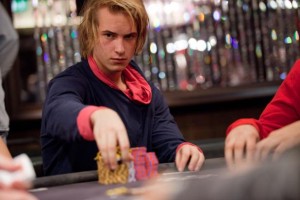 Viktor "Isildur1″ Blom played three massive sessions of high stakes online poker over the past few nights, each consisting of thousands of hands. His first and second sessions of the run rewarded him with wins of $620k and $495k, respectively, with most of the earnings coming from his Maryland-based nemesis, Scott "urnotindangr" Palmer.
His most recent session, however, was not as fortunate. Blom took on several of the biggest high stakes grinders on PokerStars, including LuckyGump, compris and gavz101, is sessions of $100 / $200 stake level PLO. After 4,274 hands, Blom found himself negative by approximately $734k.
Blom's recent victories put him positive by over $1 million, but this massive loss leaves him with little more than a few hundred thousand dollars.
Not surprisingly, compris and gavz101 were the biggest winner of the evening. Gavz101 was positive for the night by a staggering $591k, while compris benefited to the tune of $201k.

The biggest winner of the night on Full Tilt Poker was none other than CardRunners instructor Andreas "skjervoy" Torbergsen, who seems to have mastered the Full Tilt tables in the past couple of weeks. He earned $161k. Torbergsen would've been wise to call it a night after this, but a brief trip to PokerStars saw him losing $95k.
Although he's still the biggest online poker winner for 2011, Gus Hansen had his second losing night in a row. He was the single biggest loser on Full Tilt Poker, and has dropped $300k in two days.
Blom and Hansen were joined in the losers' circle by Scott Palmer, who lost just over $143k. Palmer, who was a top contender at the start of 2010, lost over $1 million in the past week alone. Jared "harrington10″ Bleznick had a subpar night as well, losing $76k.