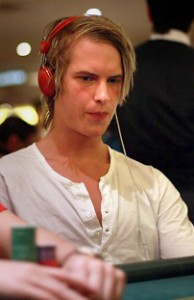 The world of high stakes poker is a world full of huge swings – sometimes you snatch up a million dollar pot and ride it for a while; other times it seems like you're hemorrhaging chips. The latter has certainly been the case for Isildur1, who suffered another bad hit this past week. Widely regarded as being the Swedish poker professional, Viktor Blom, Isildur1 hit the $100/$200 NL Texas Holdem tables this week, and they hit back. One of the worst single hits that Isildur1 took came on Wednesday when he dropped about $87,000 in only about 160 hands. This hit came to another rising star in the "anonymous high stakes poker player league," KTPOKP.
One of the first critical hands came when Isildur showed a 10/Ace off-suited against KTPOKP's suited Jack/Nine. After building a $3,600.00 pot pre-flop, the board came with a great flop for both players – Ace, Queen, Ten (no spades). However, this gave KTPOKP a few straight options while it gave Isildur1 a shot at a full house. The next two cards came as the King and Three of Clubs, giving KTPOKP a straight to the Ace and Isildur1 his original two pair. Of course, Isildur1 took the chance to call a bluff at the Club flush by shoving and KTPOKP bit hard. This wouldn't be the first time that Isildur1 lost out a strong hand to a straight.
The next big hit for Isildur1 came when he was staring down at pocket Aces while KTPOKP had Eight/Seven suited. Isildur1 once again built a strong pot before the flop but KTPOKP stopped it at around $9,600. KTPOKP checked the flop that gave his an open straight draw but Isildur1 made a small bet. Over the top of this, KTPOKP went all in with $52,795 and Isildur1 called. Of course, the turn came with a four and Isildur was drawing dead for the river.
Ever since Isildur1 has returned to the high stakes tables at Full Tilt Poker, he has been getting hit hard. Last week, for example, Isildur1 lost about $402,000. Still, it might be too early to call the famous online poker player out. Isildur1 has participated in all of the top 10 largest pots in online poker history and made his name known last year for winning and losing about $4.5 million. Keep your eyes on Isildur1 the next few weeks. We could see some pretty huge pots as the Swedish poker player struggles to get back on top of the game.