written by: James under News Comments: Comments Off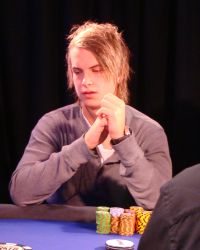 Viktor "Isildur1″ Blom followed a big score against Dan "jungleman12″ Cates with an even bigger victory over Scott "urnotindangr" Palmer this past weekend, earning $620k in a match that many railbirds thought would go to Palmer.
The session took place on PokerStars, with Blom and Palmer facing off over 745 hands of PLO at the $50 / $100 stake level. However, the session had a mandatory 3-bet rule, effectively making the stakes $300 / $900. Historically, Palmer has gotten the best of Blom at a variety of PLO stake levels, making the win even sweeter for the Swede.
Blom's PokerStars account is now at a record high of just over $800k since he officially began his sponsorship with the site. Many poker forum crawlers point to Blom's new focus on mid-high stake levels as the reason for his recent success, and rumor has it that Blom asked PokerStars to prevent him from entering any games above $50 / $100. This differs from a previous rumor which put his maximum stakes at $25 / $50.

Although Blom has seen some major success in the past few days, his 2011 pales in comparison to his 2009, in which he accumulated a bankroll of over $5 million against some of the brightest stars in online poker. Unfortunately, a massive downswing caused him to lose all of that money and then some.
In total, Palmer is currently up by over $1.3 million when counting his Full Tilt and PokerStars accounts.
Dan "jungleman12″ Cates quickly bounced back from his recent losses to Blom and was the second biggest winner of the weekend, earning $584k on his Full Tilt account. The majority of the money came from online legend Patrik Antonius playing Mixed HA at $300 / $600 stakes. Antonius uncharacteristically lost $659k over the course of 359 hands.
The other most successful players of the weekend included compris (up $83k), Praz Bansi (up $86k) and skervoy (up $251k). In addition to Palmer and Antonius, the biggest losers were NeverBettor (down $99k), FLIPokerHer (down $107k) and southside1 (down $184k).