written by: Steve under News Comments: Comments Off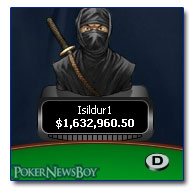 The man who is responsible for the 10 largest pots in online poker history, Viktor "Isildur1" Blom, scooped his largest pot even on his new site PokerStars (where he is a member of Team PokerStars Pro). While it's not in the ballpark of the seven-figure pots Isildur1 was known for at Full Tilt Poker, the win on PokerStars, a $335k pot against the anonymous "1Il|1Il|1il|", was his largest to date at the site.
The hand took place at a $100/$200 PLO game where Isildur1 was seated along with high-stakes regulars "1Il|1Il|1il|" and "patpatman" when the following hand occurred:
Pre-Flop: patpatman opened to $600 from 1st position; Isildur1 3-bet to $2,260 on the button; 1Il|1Il|1il| made the call from the Small Blind; patpatman 4-bet to $10k; Isildur1 made the call; 1Il|1Il|1il| decided to 5-Bet; patpatman called; Isildur1 called.
Flop: Ts-4s-3d: 1Il|1Il|1il| bet $114,235 (leaving himself only $4,125 left in his stack); patpatman folded, and Isildur1 put 1Il|1Il|1il| all-in with a raise. 1Il|1Il|1il| tabled Ad-Ac-5c-6s for a pair of Aces and an open-ended straight-draw: Isildur1 tabled As-Qs-Qh-Td for a pair of Queens and the nut-flush-draw.
The Turn was the Jack of Spades, locking up the hand for Isildur1. The inconsequential River card was the 8 of Spades.
Despite the massive pot, Isildur1 is currently down over $330k for the year thus far at the online poker tables, but he did win over $1 million at the PokerStars Caribbean Adventure (PCA) after winning the $100k Super-High-Roller tournament.
For more information on the ultra-high-stakes online poker games you can check out highstakesdb.com.